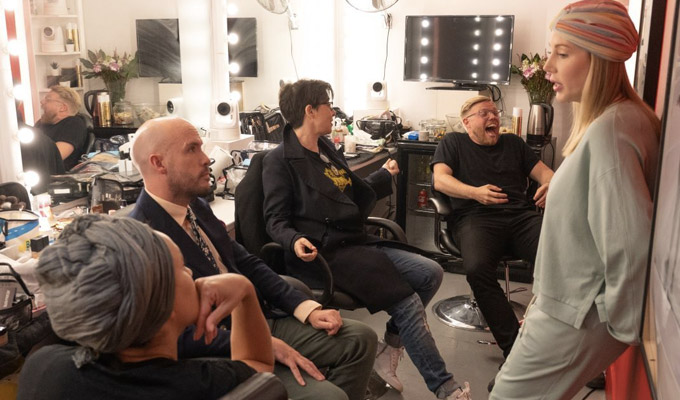 Backstage With Katherine Ryan
Much mystique surrounds what goes on backstage at a comedy club, that sacred space where comedians let rip with their scurrilous gossip and uncensored jokes.
Of course, once you put cameras there, you cannot possibly expect that sanctity to be maintained as every comic will moderate their behaviour. The observer effect, physicists call it: the idea that you cannot measure something without affecting it. The suggestion that Backstage with Katherine Ryan is a genuine look at what goes on in the green room is clearly a myth. If nothing else, the lawyers would never allow it.
Yet this new Amazon show does offer a glimpse of what might be going through a comedian's mind before they go on stage, while the conversations Ryan has with her guests has more intimacy than a traditional chat-show format. That's displayed in the discussions she has with her friend Sara Pascoe about sexual predators in the industry that's attracted all the headlines.
The vibe also allows some of the comedians' offstage personalities to peek through, even as Ryan covers typical interview topics such as Jimmy Carr losing his virginity late in life or Seann Walsh trying to cope with the consequence of THAT kiss with his Strictly co-star. It seems an omission not to question Walsh about the allegations his ex, Rebecca Humphries, made about his behaviour, given the discussion about men's conduct elsewhere, but this was always going to be a friendly environment.
As for the offensive jokes, there's little Frankie Boyle and Carr would not say on stage, so it's perhaps little surprise that they are more laid-back off it. Carr especially shows a charm and generosity that it might be bad for his brand to display professionally. It's the camaraderie that shines through more than anything. The comics form quick connections with each other through their shared aims and experiences.
The relaxed environment allows a more spontaneous wit to emerge through the green room banter, in contrast with the scripted stand-up we see on stage at the Roundhouse in north London.
However, some segments feel a little more artificial than billed. Geoff Norcott brings along a raft of prepared insults with which to roast the comics rather than riffing ideas with Ryan. But then watching a man stare at a screen until inspiration strikes would never make great TV.
There seems to be an insatiable appetite for stand-ups sharing their anecdotes and talking about their work, as shown in everything from Alan Davies's As Yet Untitled to Comedians In Cars Getting Coffee. Backstage With Katherine Ryan embraces this spirit, as well as the sort of scripted elements that surely feature in every comic's sitcom pitch featuring an exaggerated version of themselves.
So it's not truly groundbreaking, and can never hope to be a fly-on-the-wall experience. But Backstage With Katherine Ryan does succeed in presenting stand-up routines in the context of the comedian's offstage existence. It freshens up the traditional Live At The Apollo-style showcase for the age of podcasts and social media, where audiences want to get to known know their stand-ups beyond the jokes.
• Backstage With Katherine Ryan is available on Prime Video now
Review date: 10 Jun 2022
Reviewed by: Steve Bennett
Recent Reviews
What do you think?