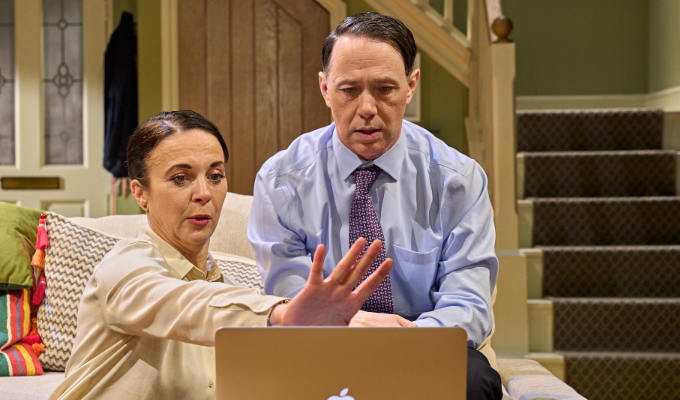 The Unfriend
Steven Moffat is best known as the showrunner on Doctor Who, Sherlock and Dracula – but those with longer memories will remember the ensemble twentysomething comedy Coupling and maybe even the semi-autobiographical Joking Apart.
It is that sitcom discipline that defines his first stage play, The Unfriend, which boasts a ruthlessly efficient devotion to the punchline and a relentless urgency in ratcheting up the awkward tension. Every second or third line of this farcical modern comedy of manners is a gag, amplified by similarly tight performances.
Reece Shearsmith and Amanda Abbington play archetypal middle Englanders Peter and Debbie, an uptight couple who hide their emotional reticence behind a superficially polite good nature. While on a cruise away from their surly teenagers, they meet Elsa Jean Krakowski, a brash, Trump-supporting American who's everything they are not: gregarious, optimistic, direct… and most possibly a serial killer.
This they only discover after she cashes in the usually empty promise of reuniting sometime after the holiday and rocks up as an unwelcome guest at their comfortable West London house. After she gets inside No 9 (a nice in-joke that this is their address), the Brits try to confront their unwanted visitor, but are held back by their socially-conditioned good manners.
The premise is brilliant in its simplicity, pitching the brutally frank American against her indirect transatlantic cousins, and hugely effective in its laugh-filled execution.
At times, Frances Barber, below, channels the waspish bluntness of Joan Rivers, such as the line describing an overweight woman as having 'such a pretty face - if you can find it' and seems to be revelling in every blunt, direct lune.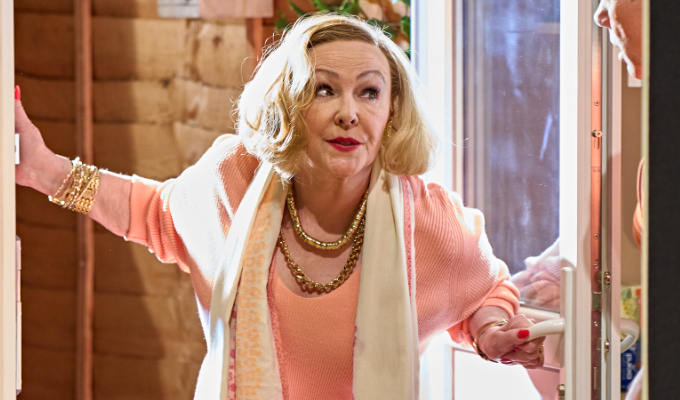 Meanwhile, Shearsmith's Peter is a natural pessimist – 'happiness is misinformation', he believes – and Abbington's Debbie a weary realist, at least until her exasperation at the situation explodes. But mostly the couple – Peter especially – are left to squirm on their own etiquette as they struggle to confront the situation they know needs confronting, but can't bring themselves to bear
For all the horrors Elsa is believed to have committed, and the manipulative force she exerts on her hosts, she also proves a breath of fresh air as she inveigles herself into the middle-class household. 'Killer Poppins' Debbie calls her, as she transforms their taciturn, warring and farting teenagers Alex and Rosie (Gabriel Howell and Maddie Holliday) into engaged, likeable young adults. Although the uncertainty about whether she is a benign or evil force taking over their lives does come at the expense of fully ratcheting up the tension.
By way of contrast to Elsa's larger-than-life presence, Michael Simkins brings suburban tedium as the neighbour obsessed with the dull practicalities of sharing a boundary. And no farce would be complete without an authority figure, here a scene-stealing policeman played by Marcus Onilude.
There's a slight satirical edge to the script, too, from Elsa urging her reluctant hosts to ignore facts over their 'lived experience' and a commentary on how we come to so easily accept extreme situations as the 'new normal'. But making points comes a distant second to making jokes, and laughs flow thick and fast.
Director Mark Gatiss – Shearsmith's League Of Gentleman colleague and Moffat's Sherlock collaborator – keeps such a strict rein on the pace that he even ekes a sight gag out of a scene change, while otherwise allows the script to pop and fizz unfussily.
When so many plays are self-consciously 'about' something, it's something of a throwback to simply play social awkwardness for laughs. But Moffat's taut scripts and all the actors, especially Shearsmith, do so with such assured effectiveness that laughs are guaranteed… a harder act to pull off than this lot make it seem.
• The Unfriend is at the Chichester Festival Theatre's Minerva Theatre until July 9. Tickets
Review date: 27 May 2022
Reviewed by: Steve Bennett
Reviewed at: Chichester Festival Theatre
Recent Reviews
What do you think?