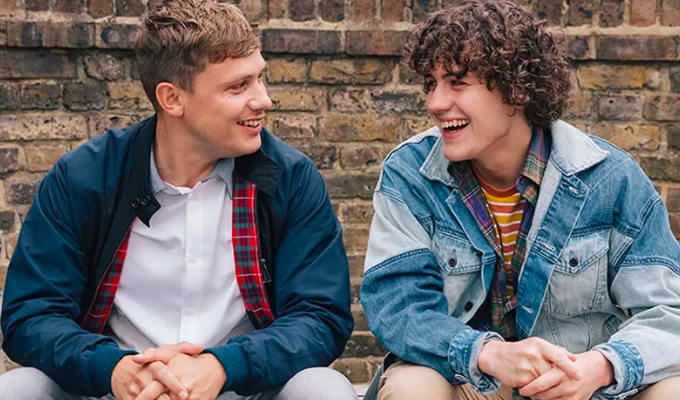 Big Boys
In keeping with TV comedy trends, Big Boys is a thoroughly authentic story drawn from the real life of its creator – in this case comedian Jack Rooke's experiences of going to college and tentatively exploring his sexuality for the first time.
And what a funny, affecting story it proves to be, with its witty, honest script and ensemble of intriguing, likeable but fragile characters
Dylan Llewellyn, from Derry Girls, plays Jack, with Rooke's voiceover admitting 'if you can't cast yourself as better looking, then what's the point?' He also describes his younger self as 'a closeted mummy's boy with a newly dead dad and a crap perm', which is just about right.
His situation is set up in a brisk, gag-packed opening montage that expertly draws the viewer into this world of the recent past. The young, shy Jack clearly has a close relationship with his mum and is uncertain what life will bring away from her apron strings at the fictional Brent uni near Watford.
There he meets Danny (Jon Pointing) a walking stereotype of laddish straightness, yet who turns out to be less hung up about Jack's sexuality than the protagonist himself. Rooke has rightly described this central relationship as flipping the 'gay best friend' trope on its head – and he's right in saying this sort of relationship is very rarely seen on screen.
While Jack's queerness is at the centre of Big Boys, the show has a much wider brief, as it explores the classic sitcom territory of how misfits try to find their place in the world. Another memorable character comes from the always excellent Katy Wix as Jules, who long ago graduated from the uni but got a job there in a bid to extend her happy student days and put off the uncertain prospect of the real world.
Rooke's dialogue is affectionately witty, and often waspishly cutting at his own expense (his description of his crying is especially funny). Meanwhile, the comedy of humiliation - from the awful digs he is given to an intimate encounter that turns wonderfully slapstick – is backed with a warm humanity that emanates from all the key characters.
Hot on the heels of Derry Girls ending, Channel 4 might just have another comedy hit, on its hands.
Review date: 26 May 2022
Reviewed by: Steve Bennett
Recent Reviews
What do you think?