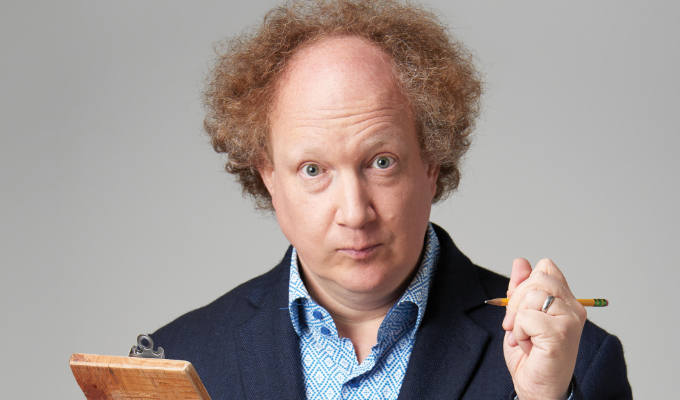 Andy Zaltzman: Satirist For Hire
Andy Zaltzman's been ridiculing current affairs for so long now – 4,228 episodes of The Bugle podcast alone – that he surely has a gag for every possible news story.
That's the background of his newly revived live show Satirist For Hire, in which he offers to mock any topic emailed to him ahead of the gig (and a few solicited during it). It showcases his breadth of knowledge and presumably keeps the performances fresh for him after 20 years as a comic.
But even though he's been doing this for years – Chortle previously reviewed this show in those glorious pre-Brexit, pre-Trump days of 2014 – it's not the perfect format, as he too easily gets caught up in mundane crowd work, diluting that sweet satire.
Anyone who's been impressed with his brilliant reinvention of Radio 4's News Quiz in his own esoteric image will be aware that Zaltzman's stock in trade is the knottily convoluted analogy and similarly tortuous pun, both of which are in evidence here.
And while many political comics are fuelled by an angry, opinionated sense of injustice, Zaltzman's comedy comes from dumping a truckful of absurdity on to the bin fire of world events. Elaborate, silly imagery abounds, starting from the fake newspaper headlines, with shades of The Day Today, with which he opens the show by way of something more comforting than events from the real world.
And he takes many diversions into the world of cricket – as you might expect given his other job as the Test Match Special statistician – which aren't too alienating for non-fans. Indeed, the arcane nature of his reference points is often the joke, as the avuncular Zaltzman is aware of his own absurdity, not just the rest of the world's. Still, his knowledge is impressive: being asked to satirise the opposition leader of New Zealand is not a task that will faze him.
Many of the topical suggestions offer him in-routes to prepared routines, such as a comment about fuel prices giving him the excuse to wheel out a strong joke about an early source of alternative energy in England that I'm sure he uses every show.
Yet many of the suggestions are little more than an upmarket version of 'oi, comedian, take the piss out of my mate'. So Zaltzman's asked to opine on Brompton bikes because someone in the room owns one, or obscure frogs that one bloke studies.
He acquits himself fine, but these segments don't have the gothic flair of his elaborate political set-pieces. They dim the intensity of his intellectual showboating, providing a variation in tone which is surely their purpose. But they also dilute the good stuff as they indulge his tendency to digress (and over-run) as his ever-lively scampers off into various conversational offshoots.
However, who could expect brevity from a comedian who believes the pinnacle of human achievement is the five-day test match.
• Andy Zaltzman: Satirist for Hire is on at the Soho Theatre until Saturday May 21
Review date: 12 May 2022
Reviewed by: Steve Bennett
Reviewed at: Soho Theatre
Recent Reviews
What do you think?