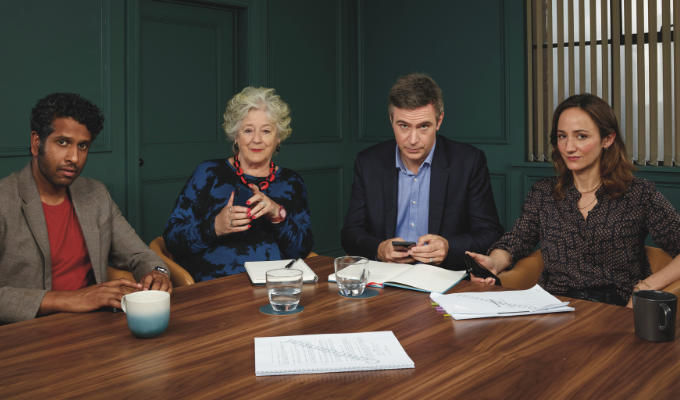 Ten Percent
The big question over the British remake of Call My Agent is why? The result is a jaunty comedy-drama about showbusiness agents, not quite as good nor as stylish as the French original.
If fans of the hit Netflix series are seeking more storylines for much-loved characters now it's ended, they will be disappointed. It's with a certain deja vu that the first episode of Ten Percent hits the same major plot points as the original, with an agent finding it impossible to tell a client she's been dumped from a major project because of her age, and the appointment of a new assistant with a mysterious link to one of the partners. Mysterious if you're new to all this
Writer John Morton has made some changes, and much of his dialogue zips wittily along. But he has such a distinctive style of naturalistic, fragmented speech that if you close your eyes you could be in W1A, with all the 'well, yes, no, right, OK, good' lines. There are definitely times Jack Davenport, as senior agent Jonathan, almost impersonates Hugh Bonneville.
The other agents are Maggie Steed as the elegantly old-school Stella Hart – whose dog is called Mathias as a nod to the original – Prasanna Puwanarajah as the too-nice-for-this-shit Dan and Lydia Leonard as the cool-in-a-crisis Rebecca. And Harry Trevaldwyn stands out as assistant Ollie, always ready with an enthusiastically arch comment.
A new cast of British celebrities has been recruited, with Kelly MacDonald taking centre stage in episode one. She's treated kindly by the script, seeming as vulnerable as any of her roles. Similarly sympathetic is the the forever struggling actor Simon Gould, a new character introduced by Morton who is played for every ounce of pathos by Tim McInnerny.
If you only have Amazon's Prime Video and not Netflix, Ten Per Cent is a charming introduction to these disparate characters trying the best to protect fragile actorly egos amid a sea of potential disasters. But if you are able to watch the dubbed original, do – for this is a perfunctory imitation.
• Ten Percent has dropped on Prime Video today.
Review date: 28 Apr 2022
Reviewed by: Steve Bennett
Recent Reviews
What do you think?