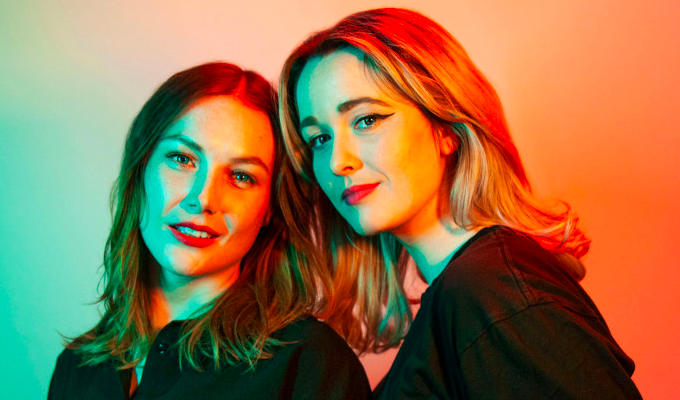 Annie and Lena: Different Now
With an effervescent energy and a deeply ingrained chemistry, Annie Lumsden and Lena Moon bring a strong sense of fun to this freewheeling sketch show.
The largely overlooked premise is that they are moving house and going through the boxes that litter the stage to see what should be kept and what should be chucked. But that doesn't prevent them from performing skits set at the 2001 Nickelodeon Kids Choice Awards – wassup?! – or the latest game show which asks: Can A 30-Year-Old Woman Make A Single Decision?
They return to both set-ups for recurring gags, yet it never feels like they are labouring the point, for they instinctively know how to vary the pace. In another segment, they rattle through a litany of embarrassing personal stories which we are asked to rate as either 'funny' or 'depressing', which condenses every anecdote to its hilarious nub.
Lena regularly mentions her ADHD, which has only relatively been recently diagnosed, while Annie puts her similar energy down to being 'quirky'. She would nominally be the straightwoman to Lena's fool, but it's not a distinction they adhere particularly strongly to, as they are both cheerful idiots.
Clearly genuine pals, they have a loose, natural performance that blurs the lines between scripted and spontaneous interactions, making the audience feel as if we are in on the friendship and the performance seem effortless.
However they struggle in a segment that deploys a more formulaic improv set-up, and it doesn't quite come off. And a sketch parodying food delivery services is over-long and, ironically, under-prepared.
Yet after their rare missteps, this joyful and assured duo always pick the mood up again – whether celebrating a cheesy joke or launching into an upbeat Spice Girls-inspired song about rejecting unsolicited advice. It really is a blast.
• Annie and Lena: Different Now is on at the Queen Victoria Women's Centre at 9pm tonight and tomorrow.
Review date: 22 Apr 2022
Reviewed by: Steve Bennett
Reviewed at: Melbourne International Comedy Festival
Recent Reviews
What do you think?