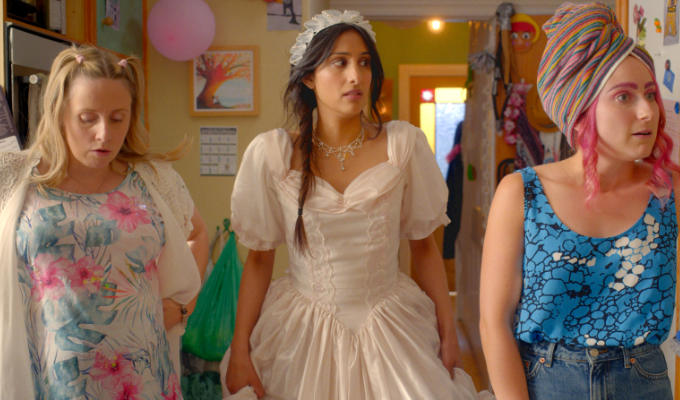 Hullraisers
As one female-led comedy with a distinctive geographical flavour launches its final series, another starts its first. Airing straight after the season three premiere of Derry Girls, Hullraisers follows three working-class women at various stages of their adult journey.
Bang in the middle is Toni (Leah Brotherhead), who is finding the responsibilities of motherhood a struggle: trying her best to bring up young Grace, but unable to accept that her days of '10 blue WKDs and dancing on sticky tables' are really over.
Reminding her of that wild past is Rana (Taj Atwal), a copper by day and party girl always on the pull at night. Even if the Hull City star she hooked up with doesn't turn out to be quite the star player she believed. Meanwhile, Paula (Sinead Matthews) represents a future that's unappealing to Toni, the harassed mum whose life has been invested in a daughter who's still giving her problems as a teenager.
It all feels authentic, and the opening episode sets up Toni's place between hedonism and parental duty well, with a storyline that sees her abandon Grace's Mini Stars drama club rehearsal and take her daughter to the pub instead. It does not end well.
The leads are all great – as is Perry Fitzpatrick as Grace's doting dad Craig. It's a strike against sitcom cliché to have the father as the attentive parent and the mother as the reckless one. However, stealing every scene is Felicity Montagu, breaking out from being Alan Partridge's PA Lynn, to play Toni's super-judgmental mother-in-law.
Hullraisers is a remake of an Israeli series called Little Mum, though I'd wager the original never featured a 'meat pie' flavoured vape. That's one of many nods to the East Yorkshire setting, also including a hat-tip to Aunt Bessie's Yorkshire pudding empire, put into the script by proud Hull native Lucy Beaumont. And the relationship between impetuous Toni and the strait-laced Craig is not far from her marriage to Jon Richardson, at least as portrayed by their Dave series.
As in that show, Hullraisers' dialogue rewards attention, as the rich details and gaggy lines, delivered as throwaways, are a hallmark of Beaumont's scripts, here written with Anne-Marie O'Connor and Caz Moran. However, the naturalistic energy means the show is more likely to invite constant smiles than raucous laughter.
Still, now the premise has been established, we know and like the three central characters more than enough to want to find out what they might get up to next…
• Hullraisers is on Channel 4 at 9.45pm tonight
Review date: 12 Apr 2022
Reviewed by: Steve Bennett
What do you think?