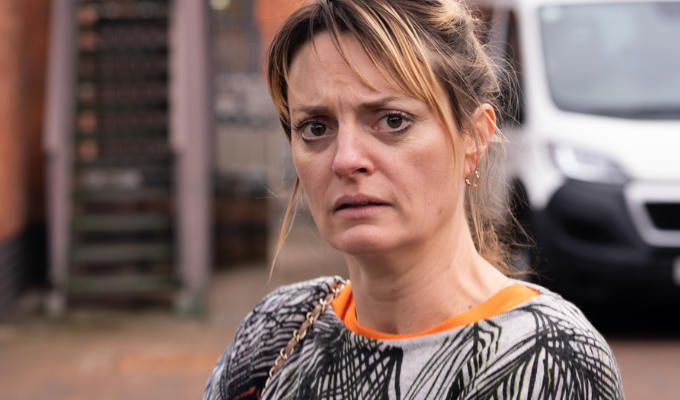 Newark, Newark
There's one big problem with this delightful portrait of a relationship between an oddball son and his recently divorced mum: three episodes just isn't enough.
In the title of Newark, Newark, writer Nathan Foad pays affectionate tribute to the working-class market town where he grew up in the East Midlands, a part of the country rarely depicted on TV. But as it's based on his own life, it appears more a thank-you note to his mother for doing right by him, despite having struggles of her own – and despite his cockiness and awkwardness making things more difficult than they need be.
The relationship between Morgana Robinson's chippie-owning Maxine and the troublesome teenager Leslie (newcomer Jai Hollis), whose sarcastic mouth and social shortcomings make him a target for bullies, is tender and authentic. Yet they are surrounded by the best larger-than-life supporting cast since Only Fools And Horses.
Chief among those weirdos is Maxine's sad-sack ex, Terry, played pathetically - in all the right interpretations of that adjective - by Mathew Horne. He's a man-child of low ambition and dismal sense of style (think Jeremy Clarkson on a Primark budget) who's been left adrift by the collapse of his marriage.
Adding to the mix his martial-arts obsessed mate Darius (Bo Poraj); Maxine's scheming mum Pauline (played by former Corrie doyenne Beverly Callard as if she's head of a crime family); lustful chip shop assistant Claire (Saskia Chana) and Leslie's super-smart best mate Amber (Jessie Mae Alonzo)
It's a well-pitched mix off the exaggerated and the heartwarming as Leslie tries to make his impression on a world that really couldn't care less about him – and that includes his attempts to make a dramatic coming-out statement at mum's 40th barbecue.
With characters you want to spend time with and a lean, witty script, Newark, Newark, really is so good they named it twice.
• Newark, Newark is on Gold tonight, tomorrow and Wednesday at 9pm. Foad talks about the show here, and some of the cast chat here.
Review date: 28 Mar 2022
Reviewed by: Steve Bennett
Recent Reviews
What do you think?