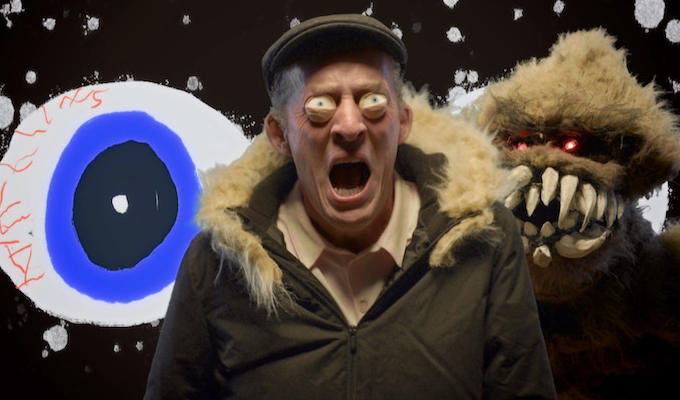 The Mind Of Herbert Clunkerdunk, series 2
'Bonkers' seems inadequate an adjective to describe the stupid, strange world of Herbert Clunkerdunk, that melds the childish and the avant-garde.
The second series is as absurd as the first: a tightly-packed stream of zany inventiveness, attaching distinctive visual gags, off-the-wall singalongs and non-sequitur asides to a flimsy plot.
It all hangs on the considerable innocent charm of Spencer Jones's central character: a wannabe actor pinballing from hopeless audition to hopeless audition while trying to be the perfect, fun father. You can imagine his attempts to entertain his real-life children – Sonny and Winona, who play themselves here – informed much of Jones's comedy. This is the humour of pulling faces writ large, and with a CGI budget to make real everything from a T-Rex in the background to his daughter's exaggerated puppy-dog eyes.
Other effects are a bit more Muppets: his agent is a pair of giant foam lips and a single eye on a stalk, which pops weirdly out of his phone. You can add The Young Ones and Vic and Bob to the obvious list of influences, too. Like those shows, Clunkerdunk is sure to alienate some viewers, and become a cult favourite among others.
There are solid visual jokes, but also plenty of odd-for-odd's sake, as his character's mind wanders into bizarre diversions, often set to catchy music, such as his anthem to Hoovering. His wife Bobby Kindle (Lucy Pearman) is something of a stabilising influence, but she has her own - more muted - weirdness going on, too
In episode one, he gets an unlikely audition to be a Dutch tough guy, a change from the 'idiot dad' or 'middle-aged dork' he usually gets typecast as. (See Jones's other sitcom, Mr Winner, for evidence of that). But can he triumph over his geezer neighbour Jonny Wallop (Dominic Coleman, pictured), also up for the same role and whose ping-pong eyeballs add a trademark visual style to the show.
What to read from the fact that the eyes of Clunkerdunk, and others, go the same way in his presence? Could it be a nod to the way middle-class people try to sound more working-class when in such company? And is Clunkerdunk's humiliation at his audition – in front of a very young panel – an expression of Jones's real anxieties?
You could read too much into this, when The Mind Of Herbert Clunkerdunk is so easily enjoyed as a series of hugely creative over-the-top visual gags. A bit trippy, maybe, but with an engaging humanity at the heart of all the insanity.
Review date: 26 Jan 2022
Reviewed by: Steve Bennett
Recent Reviews
What do you think?