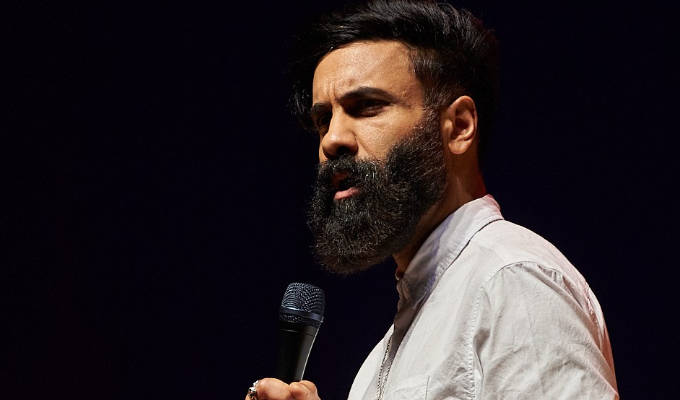 Paul Chowdhry: Family-Friendly Comedian
The 'family-friendly comedian' tag is, of course, a joke. A way – along with a few tongue-in-cheek comments that he doesn't want to be cancelled – for Paul Chowdhry to play up his anti-woke credentials. Any flimsy pretence between the 'old' him and the 'new' inoffensive version is quickly dropped, as he remains as brutally abrasive as ever. PC is not going PG.
If attitude is the essence of comedy, Chowdhry has it by the skipful. His shtick is predicated on savagely mocking the audience. But – and it's a very big but - the insults are often artless. Chowdhry doesn't have the wit of Frankie Boyle or Jimmy Carr to craft a deliciously wounding takedown. It's all 'fuck you' aggression and little finesse. A bludgeon, not a scalpel.For example, in his intro he
says he wants to be gender inclusive – which means welcoming 'ladies, gentleman and … what the fuck are you, bruv?' A playground insult which nonetheless gets a cheap laugh, purely for its brutality. Of course, he would never aim that at a transgender person, as it's pretty unpleasant if you were to unpick it.
Not that his fans care much, they revel in the blunt banter. Much of his audience are South Asian, and he teases them with a ferocity few white comics would dare – and the lack of the kid-gloves treatment may be key to his appeal. He wants the white punters to feel uncomfortable, too, as payback for a lifetime of racism, but there's never too much bite behind his bark. Rather, he parodies the Essex accent of the geezer in the stalls, assumed to be called Dave, in a good-natured ribbing.
Chowdhry is undeniably good at such cartoonish accents, also covering Brummie, Irish Traveller, a fey voice he assumes those of delicate sensibilities have, and a twist on the hesitant, soft-spoken Asian pharmacist he targets in his front row.
You can't fault the confidence of the delivery, and many of the laughs seem to be a trick of his hard-edged rhythms. His speech is liberally peppered with Punjabi slang for extra impact, with the emphatic tone contrasted with some of his softer impersonations. But while the onslaught is relentless, few of the insults stick in the mind, only the swagger.
He accentuates the bad-boy image with gags about celebrity paedophiles and Madeline McCann. The latter is a fine joke, objectively speaking, but can you still be edgy covering the subject so heavily mined by the edgelords for the past 14 years.
Nine years ago, Chowdhry was a trailblazer on this very stage, becoming the first British Asian to appear on Live At The Apollo. Now he affects some bitterness to those who have surpassed him, such as 'coconut' Nish Kumar, 'wannabe roadman' Guy Khan and 'googly-eyed' Romesh Ranganathan. But their success is down to writing and graft… and on the first, at least, Chowdhry falls short.
His blatantly engineered encore ends on what seems like a sincere note, about the effects of Covid both professionally and personally, and the darker places these difficult times took him to. It's all in service of a cheap punchline, of course, but demonstrates how he can command his audience – a talent he mostly wastes on calling them names.
• Paul Chowdhry: Family-Friendly Comedian plays Manchester tonight, Ipswich tomorrow and Nottingham on Thursday. He has just announced 43 more dates nationwide for next year, starting on March 2 at Liverpool's Philharmonic Hall. Paul Chowdhry tour dates.
Review date: 10 Dec 2021
Reviewed by: Steve Bennett
What do you think?