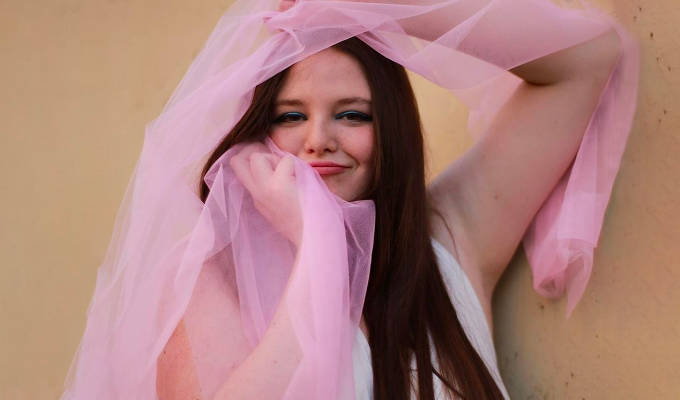 Megan Stalter at the Soho Theatre
Megan Stalter is a product of social media, and not just because that's where she found her audience.

Her live performance takes on all the traits from the online world: she's egocentric, desperate for attention and seemingly 'authentic', even if the persona is carefully curated.

In this committed display of anti-comedy, she demands adulation even if she does little to justify it. A good third of the show is her starting and restarting the intro, trying to ensure it's 'just so' for the special she's allegedly filming.

She has awkward exchanges with her guitarist (and supposed ex-husband) before banishing him from the stage, belittles her audience, sings badly and tells a couple of bizarre long-winded anecdotes with little point.

The stage version of Stalter is a perfectionist when it comes to the details, ignoring the car crash of her own imperfections. The show has the desperate, deluded energy of a tween putting on a show for her mum in the front room. You've got to admire the eager entertainer's spirit if not always the result.

Much of the show is rooted in modern clowning, especially when she's dragging people on stage and relentlessly making them feel uncomfortable with tasks they can never hope to achieve to her exacting standards. A little of this spiky attitude goes a long way, and about halfway through, it starts to drag as yet another poor sap is sarcastically demeaned for falling short.

But Stalter has a messy charm, maintaining a certain naivety and keeping the show free-flowing as she improvises around every peculiar encounter and powers through every scripted snafu. The abrupt turns the show frequently takes often prove a surreal – and undoubtedly unexpected – delight too.

Your enjoyment will definitely depend on your attitude to 'so bad it's good' comedy, for the necessary displays of narcissistic, cringe-inducing incompetence may test your patience before Stalter whips you back on board with a moment of pure silliness, delivered with a force-of-nature performance.

• Megan Stalter is at the Soho Theatre in London until Saturday.
Review date: 7 Dec 2021
Reviewed by: Steve Bennett
Reviewed at: Soho Theatre
Recent Reviews
What do you think?