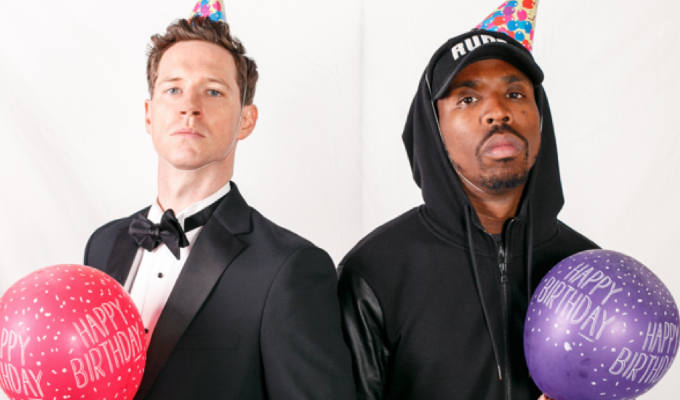 String V Spitta
It's the perfect idea for a chalk-and-cheese double act. One the son of privilege, born in Kensington, schooled in Geneva; the other a grime-obsessed TikTokker from East London. Together they are String and Spitta, two rival children's entertainers forced together for the sixth birthday of Anastasia, the daughter of a Russian oligarch.
The result of this union is a bit scrappy but undeniably great fun thanks to the talents of Ed MacArthur and Ghosts star Kiell Smith-Bynoe, both quick-witted musical improvisers.
This show is not as boisterously inappropriate as forerunners in the field such as Justin Edwards' dipsomaniac Jeremy Lion or the gleefully tactless Funz and Gamez. Nor is the rivalry quite so deadly as Messrs Jolly and Jelly in Psychoville.
Instead, we're encouraged to get into the spirit of things. To regress to our childhood selves to sing songs, be impressed by balloon animals, or participate in various calls-and-responses. The pair are skilled at going with the flow, bantering with latecomers or teasing sub-par 'volunteers' all while maintaining the fiction of a kids' party.
The setting and plot actually puts some limits on the most entertaining part: the pointed rivalry across the extremes of the class divide. Such a dynamic is a staple of English comedy, but done here with bite and wit.
The funniest moments come in the scene-setting introductory song – in which String insists fun only comes from discipline and Spitta espouses the benefits of freestyling – and the later rap battle that airs the beef between the pair. A few more pointed comments about privilege and the appropriation of talent strike a socially astute note, but the show wears such notions lightly.
There are hints this might once have had pretensions of a full-on West End musical, usually when showtune-loving MacArthur is at the keyboard. But it's essentially it's a consistently amusing cabaret of magic tricks, animal impressions, audience participation, loop pedal beatboxing – and a seductive R&B serenade that will mean you'll never see a Bop It in quite the same way again.
MacArthur and Kiell Smith-Bynoe, are engaging performers, adept at the technicalities of their arts but loose enough to be in the moment. Their show is slightly undercooked, but there's fun aplenty. Party like it's your birthday!
• String V Spitta is at the Soho Theatre at 8.45pm nightly until December 11 (except Sunday)
Review date: 3 Dec 2021
Reviewed by: Steve Bennett
Reviewed at: Soho Theatre
Recent Reviews
What do you think?