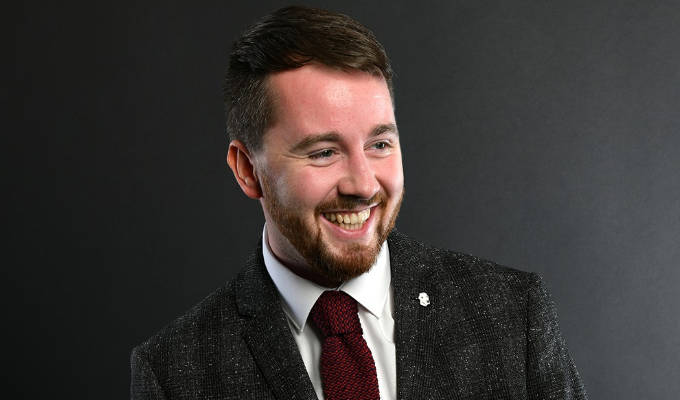 Stephen Buchanan: Talking Shop
His easy-going, personable stand-up won Stephen Buchanan the BBC New Comedy Award back in 2018. But this show – a revised reprisal of his 2019 Fringe debut – never finds the higher gears to fully capitalise on the promise.
Yet it feels tantalisingly close thanks to his core story, about his mother taking in a refugee – a Vietnamese 18-year-old called Dove. It's an unusual angle that offers a personal take on a political hot potato.
Buchanan makes no claims to be a social commentator, but this strand adds a crucial layer of interest to a show otherwise rooted in the observational comedy of the everyday, from Frankie & Benny's restaurants, his lockdown job woking in Co-Op or Old El Paso fajita kits.
On the brand's spiciness scale, this material would be 'one-chilli' mild, but it's done effectively, eliciting constant titters if not big guffaws. Then again, most comics would find it tough to get much energy going in this small, subdued midweek crowd.
Though he's affable and chatty, his interactions with the audience often end awkwardly. Once he's asked a question he doesn't quite know how to follow up if someone responds unpredictably. Let's charitably ascribe that to Covid rustiness.
He's winningly self-deprecating, opening with cracks about being a short man and a lightweight when it comes to drugs and violence, which isn't expected of a denizen of Clydebank. And the pandemic has meant he finds himself still living with mum – and Dove – at the age of 30.
Creditably, their Vietnamese house guest is used to make points subtly, rather than as a cosh to batter a message home, but it doesn't help the feeling Talking Shop is a collection of lightweight routines in need of a sense of purpose to gel into a show.
And closing with a callback seems like a swizz: neither a real joke not a satisfying end to the story, just a glib narrative trick that robs it of real closure.
Review date: 2 Dec 2021
Reviewed by: Steve Bennett
Reviewed at: Soho Theatre
Recent Reviews
What do you think?