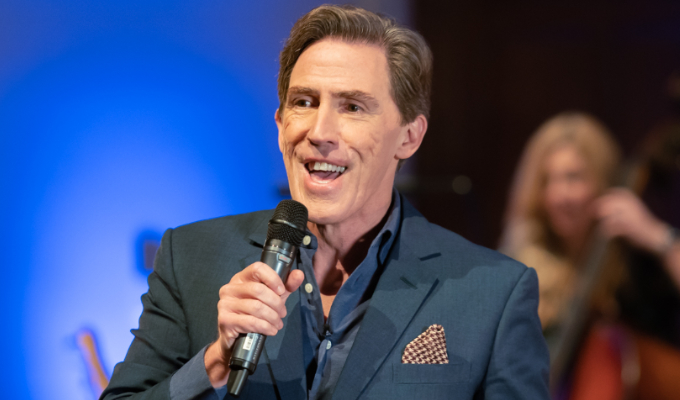 Rob Brydon: A Night of Songs & Laughter
If anything was made for the London Palladium stage it's Rob Brydon's one-man variety show, an unflaggingly good-natured evening of comedy, singing, impressions, audience participation – even a brief dramatic reading from Under Milk Wood.
It is hugely entertaining, even if of an unashamedly old-fashioned style. At one point, Brydon mutters under his breath: 'Remember it's not 1976…' But he wouldn't be out of place there from the opening blast of a cheesy show tune in honour of the 'glitz and the glamour' of this home of British light entertainment to the second-half musical tributes to Tom Jones and Vegas-era Elvis.
It's all held together by the likeable showmanship of our host, the embodiment of the word 'genial'. Even when he calls a woman a 'gobby cow' he does it with such charm it sounds like a compliment.
Such affectionate ribbing is all part of his MO, relentlessly teasing the audience for their advancing years and retreating dress sense or making a running gag out of the alleged marriage woes of musical director Paul Herbert. 'What is it about me that attracts the old and the infirm?' he muses of his fans – before launching into a 70-year-old song from the musicals.
The age of the tracks – which he sings with fine voice if not emotional depth – can be excused for their quality and their relevance. Much of the show is presented as a memoir, illustrated with songs meaningful to him, such as the numbers he sang in his high school musical or the Billy Joel lullaby he cooed to his newborn daughter. Now in her 20s, she's in the audience tonight, adding an air of sentimentality. One row in front of her, Barry Humphries, who gets a showbiz shout-out entirely befitting the affectionate badinage of the night.
The show's backbone is a slight but amusing trip through Brydon's life from his first kiss to his time as a self-confessed 'terrible DJ', then in-demand voiceover artiste – can there be anybody in the UK yet unaware he was the voice of Toilet Duck? – and cult breakthroughs via Human Remains and Marion and Geoff, roles that are a far cry from the Mr Showbusiness of tonight.
There are jokes old and new; a brilliant 'one song to the tune of another' borrowed from I'm Sorry I Haven't A Clue; and impressions of Richard Burton, Ronnie Corbett - of course - and his partner in gastronomic travels, Steve Coogan.
Even school pal Ruth Jones gets a quick 'what's occurring?' mimicry. And it was almost inevitable the finale would involve him donning Uncle Bryn's zip-up cardie for a rendition of Islands In The Stream. 'Give 'em what they want,' is definitely Brydon's watchword.
That turns out to be old-school variety, skilfully performed by a song-and-patter man in the finest traditions of all those who have trod these boards over the decades.
• Rob Brydon: A Night of Songs & Laughter is on tour until July 16. Rob Brydon tour dates
Review date: 18 Nov 2021
Reviewed by: Steve Bennett
Reviewed at: London Palladium
Recent Reviews
What do you think?