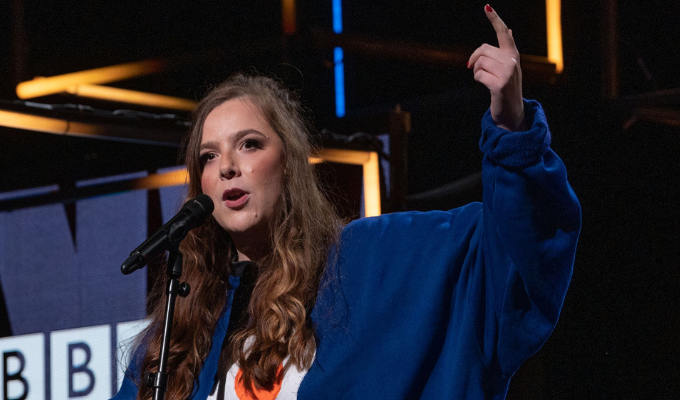 BBC New Comedy Award 2021
It may have returned to TV after a decade on radio, but the BBC New Comedy Award seems lower-key than usual this year, with minimal promotion and an 11.25pm slot for the climax. Of course, the final couldn't be held at the Edinburgh Fringe this year but instead came from Newcastle, the BBC's '2021 city of comedy' – another initiative we've heard little about since the big announcement, now the executives behind it have moved on.
The low profile of this year's New Comedy Award does a disservice to the six finalists, whittled down from around 1,000 entries. It's as strong a line-up as ever, and the show would not look out of place at 10pm on BBC Two, as it's certainly as funny as any Live At The Apollo episode that airs in that slot.
Effortlessly confident opener Lily Phillips set a good bar, slotting neatly into the cadre of feminist comics tackling the patriarchy with pointed sarcasm, especially when it comes to the unacceptable behaviour of creepy guys.
She's come a long way since her days as a Disney princess impersonator – and that's even before she cheerily heads below the belt. It's a robust set, with a good showing of solid punchlines and a wry attitude.
Celya AB is a half-Algerian Parisian transplanted to Birmingham, which may go some way to explaining why she brings a sharp outsider's eye to her delightfully offbeat comedy.
She's got a knowing side, too, crystallising nuanced observations on the likes of 'box ticking' or trying to revive dead relationships into quirky punchlines, which are packed in her set without ever feeling rushed. She signs off to the audience with a faux-arrogant 'You've been adequate' (she is French, after all) – but she's been much stronger than that. A fine talent.
It would be lazy to compare Liam Farrelly to Kevin Bridges, just because he's a young, working-class Glaswegian guy with an everyman touch – so let's just say if you like Bridges, you'll enjoy Farrelly too.
Predictable topics like his strong, threatening accent are given a distinctive twist, while having a nun in the family – his sister's a sister – allows even more creativity. If he already feels like a pro at the age of 21, that's because he is. Farrelly's a stalwart of the Scottish circuit who'll surely be spreading his wings south of the border following f this performance.
Molly McGuinness had a slightly less consistent set, with comments on the cheap ham sandwich which did for Mama Cass struggling to land, despite evoking universal reference points.
But she's strong on other topics – especially sexual ones, after confessing that being single in lockdown made her a 'weirdo' getting turned on in all the wrong places. And one particular act-out shows an admirable commitment to the bit, typical of her strong delivery.
Genial William Thompson has some savvy comments on Northern Ireland's unique character – and the average Briton's ignorance of it. He also has a barely noticeable cerebral palsy, which gives him a couple of solid anecdotes, from the slightly self-deprecatory to the mildly absurd, that hit home.
Finally, Welshwoman Anna Thomas, who exudes a convivial daftness from the moment she trills a cheery 'hello' with a laugh in her voice. She's an odd fish, that's for sure, but owns it. She chuckles unaffectedly and infectiously at her foolishness, whether it be talking about tattoos, bras for the bigger bust, or strumming her ukulele as she undermines pop lyrics.
Some of her punchlines are pretty corny, but she comes at them from an obtuse angle to maintain the element of surprise, and they are sold with her distinctive rhythms and charmingly dotty attitude that wins our affections. And those of the judges – Mawaan Rizwan, Sophie Duker and Lauren Pattison – who awarded her first place, £1,000 and a commission for a 30-minute audio pilot.
It won't be the last we hear of her, nor the other five finalists who joined her on stage.
Review date: 7 Nov 2021
Reviewed by: Steve Bennett
Recent Reviews
What do you think?