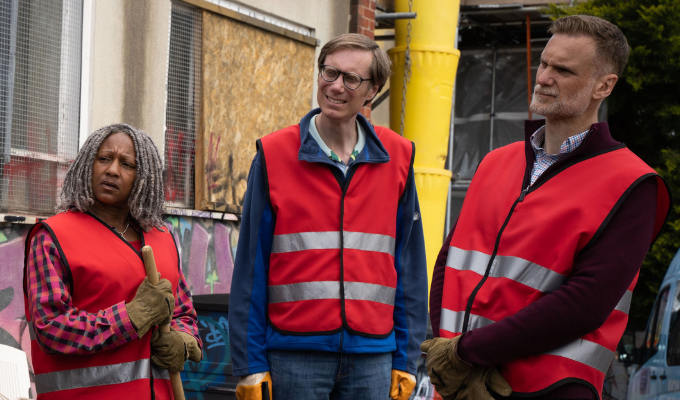 The Outlaws
It's a wonder no one thought of this before. Community service is a perfect premise for a sitcom: an opportunity to mix up characters from all walks of life in a situation they can't get out of… at least not until their sentences are served.
What's perhaps surprising given creator Stephen Merchant's track record is what starts as a true-to-form affectionate character-led comedy turns into a grippingly suspenseful thriller, with more emphasis on the drama than the laughs.
Pre-credits we meet Rani a studious high-flyer who's turned to shoplifting, apparently an act of thrill-seeking in rebellion against the smother of her overprotective parents. It's a breakout role for Rhianne Barretto, delivering a compelling performance as an cocooned young woman suddenly exposed to a scary world beyond her experience, becoming the proxy for most viewers, too.
Her initially modest, suburban frame of reference is blown wide open – for better and for worse – through her friendship with Christian (Gamba Cole), who has been dragged into the criminal underworld on the estate where he lives, against his better judgement.
Barretto holds her own against a heavyweight cast, including the much-vaunted casting coup, Christopher Walken. He is of course perfect to play Frank, the 'funny, charming…lying thieving selfish old bastard who can never be trusted' – who shows up out of the blue at the door of his daughter and granddaughter.
There are some obvious fault lines in the characters' relationships. John, as played by Darren Boyd, is a reactionary middle-class white guy kicking back at the notion that you can't say anything any more – his once-certain worldview crumbling as fast as his business empire – while Myrna is a veteran black rights activist, who's wound up in this group doing up a community centre after one too many anti-police stunts. Merchant gently mocks both sides of the woke 'war'.
The Office co-creator himself plays to type as a socially paralysed, painfully awkward, recently divorced lawyer, providing some of the most obvious comic relief, while Poldark's Eleanor Tomlinson is the out-of-touch celeb apparently inspired by Naomi Campbell's stint doing community service.
'Everyone's a type,' says Rani surveying the group – which is certainly true, though Merchant provides depth in their backstories to make them more than the stereotypes they first appear. Certainly 'outlaws' is a strong, loaded term for this lot, who are not hardened criminals, but a more relatable collection of folk who largely got caught up in bad circumstances. The original working title of The Offenders seems more accurate
Yet the menacing presence of the gang Christian becomes embroiled in provides a real sense of jeopardy, played out in several tensely directed scenes. And by the end of tonight's episode the stakes have become so high, with so many tantalising narrative threads left hanging, that most viewers will be rightly hooked. Luckily, episode 2 is already on iPlayer.
• Interview with Stephen Merchant about The Outlaws
Review date: 25 Oct 2021
Reviewed by: Steve Bennett
Recent Reviews
What do you think?