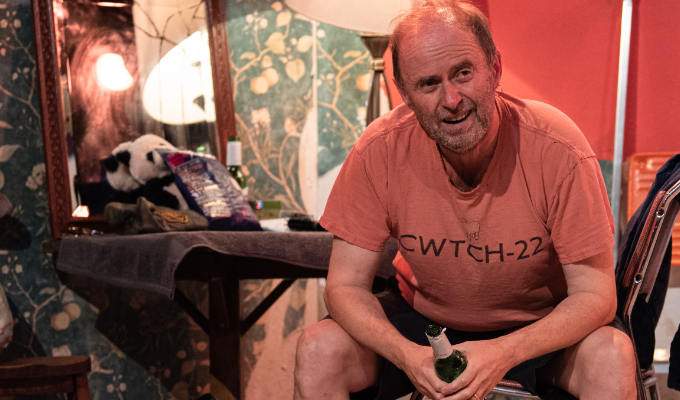 Theatre review: Broken Lad
Could it be time for a 21st Century version of The Comedians, Trevor Griffiths' perceptive play that foresaw the alternative comedy revolution upending the tired old order?
If so, Broken Lad isn't it, despite some ambitions in that direction. 'The days when most comedians spent their lives in scaggy pubs, pint in hand, fighting off hecklers are choking on cigarette smoke, are over,' says twentysomething Josh. 'Social media is now helping a new generation of comics.'
In another line sounds like it's come from an essay rather than a conversation, he later muses: 'The comedy industry is now worth millions a year thanks to sell-out stadium tours, game shows, book deals…' He's greedy for a slice of that pie and – improbable as it seems – ends on the verge of TV work despite never having done a gig, just filming himself joking around in his estate agent office. Maybe this is the new route to comedy success…
Although he's driven by money, Josh's prime motivation is to put one over on his dad Phil, the central character of this new piece at the Arcola's under-canvass venue in East London.
Phil was once, apparently, a big deal, a staple of Saturday night TV, but is now washed up, unable to make rent on his grim bedsit and newly dumped by his manager. He hasn't worked for six months and now his 'comeback' gig is in a tatty pub.
All the action takes place in the neglected room above the bar, a makeshift dressing room with peeling wallpaper, grimy windows and exposed wire, where the comic prepares amid the catering boxes of pickled onion crisps.
Nonetheless, a bigshot TV producer, his erstwhile manager and a contemporary who's now a big star all come along to watch – though we never meet any of them – along with Phil's ex-wife Liz and Josh's partner Ria, who orchestrated everything.
Phil is in the full grip of a crisis of confidence, and tries to get out of the gig, in contrast to his son fizzing with the excitement at the very idea of maybe doing stand-up one day. The notion of the eager young cub ready to usurp the leader of the pride is duly set up.
Then playwright Robin Hooper chucks in an extra dollop of intergenerational rivalry – spoiler alert – by revealing that Phil had a fling with Ria. From here, the play goes all a bit EastEnders: lots of shouting and family rows, often circular and one-note.
It's not helped by the fact that Josh is supposed to suspect something's amiss from meaningful looks exchanged between Phil and Ria, when they have no noticeable chemistry onstage. Nor is there any spark between Josh (Dave Perry) and Ria (Yasmin Paige), meaning it's a relationship few will be rooting for.
As Phil, Patrick Brennan pulls off defeated, broken elements of his character skilfully, though it's harder to believe this sad-sack was once a charismatic star – which is rather crucial to the central themes concerning the shattered male ego. It doesn't help that the limited bits of his stand-up we do get to witness would barely pass muster in a real comedy club – that perennial problem for most depictions of the craft.
Though it's not primarily played for laughs, Hooper's script sometimes throws up a very funny aside (and a fair smattering of generic pub jokes by way of introducing male banter). Meanwhile, Adrian McLoughlin provides the most dependable comic relief as Phil's friend, fixer and obsessed fan Ned, Adrian McLoughlin.
But on the dramatic front it's ultimately hard to invest enough in either selfish, self-pitying Phil or superficial Josh to care about the outcome of their bitter family tension.
Review date: 19 Oct 2021
Reviewed by: Steve Bennett
Reviewed at: Arcola
Recent Reviews
What do you think?