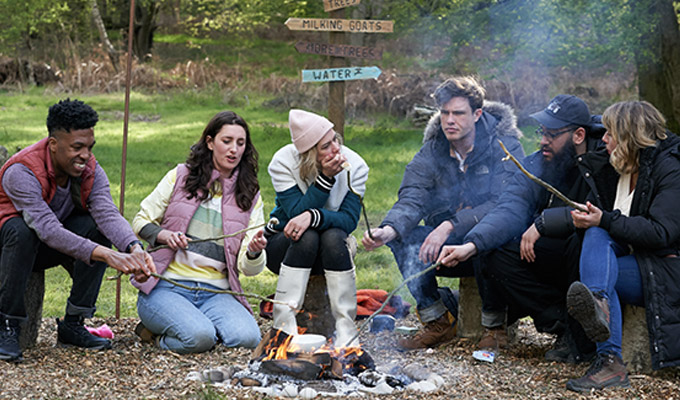 Outsiders
There are strong Taskmaster vibes to Outsiders, with contestants challenged to take on various trials by an unyielding authority figure who rates their variously awful, but occasionally brilliant, attempts.
Producers have also played it safe with five of the six contestants having already proved their entertainment value against Greg Davies. Their only risk with the relatively unknown Toussaint Douglass, which has paid dividends as his dry wit melds perfectly with the better-known comics.
David Mitchell takes on the teacherly role he was born to, and it was apparently his suggestion to give an end-of-days subtext to the tasks, exploring how the comedians would cope following the inevitable collapse of civilisation. This is no extreme Bear Grylls-style survival challenge, though, the tasks in episode one get no more demanding than cutting down a tree.
Still, that's hard enough as Douglas and Kerry Godliman demonstrate, the latter contributing very little to the effort. As with Taskmaster, the joy is in seeing comedians take on new challenges with varying degrees of competence, and revealing a bit about themselves in the process.
Mitchell is less mercurial and arbitrary than Davies, trying to maintain a sense of British fair play like the well-educated but out-of-his-depth middle manager his comedy persona always exudes.
Pairing up contestants for the whole series proves to be a great idea. There's a strong dynamic, especially, between eager-to-please teacher's pet Ed Gamble and back-of-the-school-bus rebel Lou Sanders, prone to sabotaging his efforts. Jessica Knappett's batty enthusiasm and Jamali Maddix's laid-back insouciance is an appealing contrast, too.
Compared to many shows, the tasks here are relatively mundane, which is unlikely to make Outsiders appointment-to-view. The stakes of 'come up with a camp motto', for instance, could barely be lower.
But there's a good sense of camaraderie and banter - for want of a better word - between those taking part. It feels like genuine friendships are being formed, and this feel like eavesdropping on their conversations. Capturing the strengths of a podcast in televisual form, perhaps?
• Outsiders is on Dave at 10pm tonight.
Review date: 29 Sep 2021
Reviewed by: Steve Bennett
Recent Reviews
What do you think?