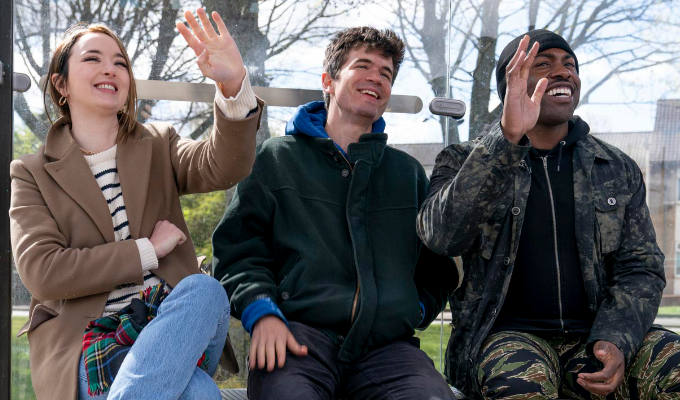 British As Folk
For his last travel series, Romesh Ranganathan travelled to Haiti, the Sahara and the Arctic Circle, among others.
So Fern Brady, Darren Harriott and Ivo Graham would be forgiven for thinking they drew a shorter straw as they kick off their new show in… Leicester.
Covid hurdles to international travel was surely almost as big a factor as budget in this British As Folk, but the trio of comedians are hardly full of beans about their project. 'Is Leicester really the dullest city in Britain?,' Brady asks, while Graham wants to know 'how mundane can it be?'
Of course their answer is that the UK's tenth biggest city – just a shade behind Edinburgh – isn't as dull as its reputation. Otherwise this would be a long hour.
The claim of the show is that it will uncover 'the real Britain, the one we don't get to see' – although their first choices in Leicester are the obvious ones: the car park where Richard III's remains were found, the National Space Centre and the market, where producers at least managed to avoid mentioning its usual claim to fame: that Gary Lineker occasionally used to work on his dad's store there.
But it's on a fruit and veg stand where Harriott comes into his own, taking to the patter with an unaffected zeal. He brings an infectious enthusiasm to everything and everyone he encounters – even the owner of an egg-processing factory, which you mightn't have thought would have been on many producers' must-visit lists.
But as the title suggests, it's the people more than the places that make this show, both the presenters and the interviewees. It's certainly good to see Dave dipping beyond the usual roster of regular TV names – though this trio have decent collection of credits, they are not as overexposed as some comedians we could mention.
Brady is the counterbalance to Harriott's zest for life, apparently reluctant to take part in many of the activities. However, her interview with reformed football hooligan Riaz Khan – or 'casual' to use his preferred term – is the highlight of this first episode. There can't be too many people who were drawn to the thuggery by the fashion, and tolerated the skull-bashing as an unfortunate but necessary side-effect.
Old Etonian Graham is, always, there to be posh, although the trope of privileged bloke struggling to connect with ordinary people – which is patronising to both parties – is advisedly sidestepped. In Leicester, he gets to introduce Harriott to cricket, which steps a little on Rob And Romesh Vs territory, but – like the whole of the show – is winningly good-natured in its execution.
Despite its message that you'll find interesting people everywhere, or occasional nods to Leicester's successful multiculturalism, British As Folk is essentially lightweight fare that's unlikely to become appointment-to-view programming.
But as a trip into corners of the UK that are often overlooked by the media - next week the trio's Mystery Machine rolls up to South Wales – it proves is am amiable, and very watchable, affair.
• British As Folk is on Dave at 10pm tonight.
Review date: 13 Sep 2021
Reviewed by: Steve Bennett
Recent Reviews
What do you think?