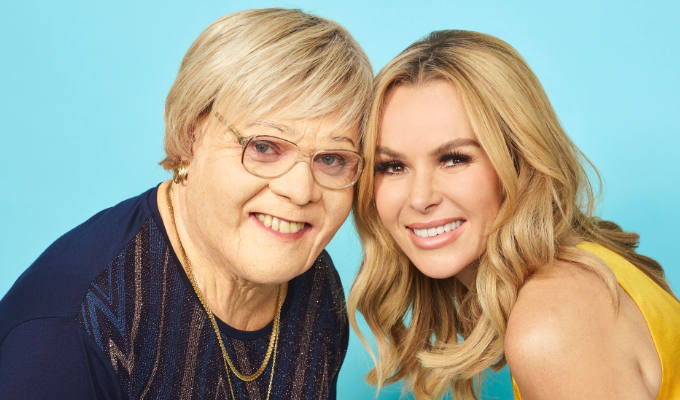 The Holden Girls: Mandy & Myrtle
They are two of ITV's most popular – or make that 'most inexplicably popular' – stars. But even their usual broadcaster couldn't find room among all its dating shows on its digital channel to house this monstrous hybrid of Amanda Holden and Keith Lemon creator Leigh Francis, so it's landed on E4.
The premise of this pitiful mockumentary is that the BGT judge plays a 'heightened version' of herself – a now tediously overused device that lets celebs gently mock themselves in a carefully managed way.
Meanwhile, Francis plays her grandmother Myrtle, trying to eke more career mileage out of wearing a comedy mask (yet still looking a bit more lifelike than Amanda Holden's actual Botoxed face). And if the premise sounds awful in theory, it's even worse in its execution.
Myrtle's apparently lived in Doncaster all her life but is now making the big move down to London to live with her granddaughter. The idea is the tried-and-tested clash between the no-nonsense northerner and her well-to-do southern relative with all her bourgeois showbizzy affectations. Holden's house is like 'living in John Lewis' is the passive-aggressive way Myrtle puts it.
No writers are credited on The Holden Girls… which might be out of understandable shame, or maybe it's because producers, nursed on reality TV, think there's no need for writers when you have 'personalities'. Though what Holden's actual personality is here remains nebulous. 'Having once been married to Les Dennis' is neither a character trait nor a very good joke, whatever they think.
For the creators of The Holden Girls have achieved the rare feat of making a mockumentary less interesting than real life. Here's an actual exchange
Amanda: 'I've got you an iPad.'
Myrtle: 'Oh yes Jean's got one of those'
'Yes.'
'I wouldn't even know how to turn it on.'
'You just touch it with your finger.'
'Ooh, Tomorrow's World!'
'Yea, Plus you can watch telly and films because Chris [Holden's husband] feels you have been in our room a bit too much.'
Fascinating stuff. And anything that might resemble a joke is hugely laboured. Myrtle takes ages to get on to a stool because... well, old people can't move so well, can they? Then she does a photoshoot that involves sitting on the toilet with her knickers around her ankles. Classy.
In capable hands these things could be funny, but capable hands are in short supply here.
Remember in Frasier, how his father's battered old chair undermined the curated aesthetic of the psychiatrist achingly stylish apartment. It was a subtle but effective visual joke, never really referenced.
Here we get a whole pantomime of Myrtle having her chintzy sofa shipped down and installed where it neither fits nor belongs. It's the same joke just heavily underlined, weakened by spelling it out so obviously.
But never mind a decent script when we can wheel out more celebrities. Ben Shephard, Catherine Tyldesley and Howard Donald all rock up and awkwardly interact with the interloper in Holden's home. And that's just in episode one - the preview for the rest of this series (for there are seven more episodes of this bilge) teases even more famous names for Myrtle not to recognise.
The whole show seems to have been built around the pun that The Holden Girls sounds a bit like The Golden Girls. Yet the result never even matches that mediocre standard.
But you can at least say Holden is consistent. This is just as bad as her BBC comedies Big Top (rating 3.3/10 on IMDB) or Mad About Alice (3.4) – both long-forgotten, and for good reason.
• The first two episodes of The Holden Girls: Mandy & Myrtle are available on All4.
Review date: 8 Sep 2021
Reviewed by: Steve Bennett
Recent Reviews
What do you think?