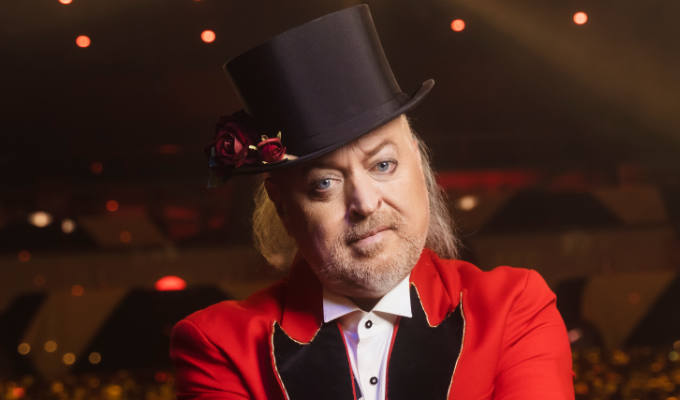 Cabaret All Stars with Bill Bailey
Bill Bailey's been offered all sorts of gigs since winning Strictly. This is the third time I've seen him in six weeks: on the main stage at Latitude, in the opulent Royal Opera House and now at mastering the ceremonies in a plush new cabaret venue in the most unlikely of places: beneath Waterloo Bridge in central London.
Yet Proud Embankment oozes underground decadence from the moment you cross its threshold. You're taken to your tables by girls in showgirl plumes and glittering, barely-there outfits as a sultry chanteuse with a Louise Brooks bob rasps seductive torch songs from the central stage. The elegant venue has the air of an illicit speakeasy where the hedonistic elite parties as the world burns outside.
That singer is Miss Ritzy Crackers, who hosts much of the first section cheekily teasing the audience for their reserved British reaction to the spectacle on offer, including her own party trick of mixing a martini into the glass in the most unusual way.
The licentious pageant she introduces is heavy on the burlesque. A bit too heavy, truth be told, as even stripteases suffer diminishing returns, however dramatic, acrobatic and well-choreographed each act is. Much of the show involved performers of any gender you could think of, and possibly some you can't, getting their kit off in variously artistic and entertaining ways.
Pi The Mime started with an inventive black-and-white movie homage, with dreams of romance crushed by working life, before erupting into a techno-powered strip. Double act J'Adore La Vie's style is diaphanous gowns and 1950s undergarments, while MisSa Blue combines sword-swallowing with a grittier form of burlesque. Jake DuPree is probably the stand-out of the form on this bill with impressively powerfully acrobatic moves … and an even more impressive torso. DuPree is a protégé of Dita Von Teese, whose kinky look certainly inspired Marie Devilreux, another burlesque turn on tonight's bill.
Bill Bailey makes his appearance just before the interval strumming The Good, The Bad and The Ugly theme – fully-clothed, it should be stressed, as a guitar-toting Southern US preacher. With typical wry resignation, he notes how varied his career is: 'One minute you're making a documentary with David Attenborough, the next you are under a bridge with some strippers.'
His MCing might not always be slick, but he's never less than charming, and his down-to-earth approach offered a winning contrast to the glitzier elements of the night. We could have seen more of him, but
Perhaps counterintuitively, his whimsically offbeat musical numbers fit right in, including Old MacDonald in the manner of Tom Waits and Led Zeppelin on bells. Sometimes raunchy dancers back him, Hot Gossip-style - them acting out his lyrics about a tense encounter with devil giving them all the more impact – while an aerial act enhanced his grandiose ballad.
We could probably have seen more of him, but his stage time was limited as the carnal carnival continued with acts such as Isabella Bliss, channeling Marilyn to sing Happy Birthday. However, her later role as Boudica in a showdown with Thor was a bit cheesy.
If you think you don't like fire-eaters, Shade Flamewater may have you change your mind, bringing original techniques and inventive showmanship to what can be a tired trick. As another alter ego, Dipoy The Clown, he also put a new twist on walking on broken glass, performed in mesmerising, poignant silence.
And a frenetically acrobatic aerial act, Katrina Louis, proved an energetic and jaw-dropping climax, spinning and twisting suspended by her hair.
All this is performed in close quarters, and overseen by the most diligent stage crew, all part of an impressively slick and welcoming operation that makes every aspect of the night feel special: from waiting staff that treat customers like royalty to delicious food, better than it really has a right to be.
With its mix of burlesque, circus, drag and comedy, the Cabaret All-Stars more than fills a La Clique-shaped hole in London's nightlife. While a little more variety in the types of act might be welcome, it's a big night out that's classy, indulgent and louche – and filled with memorable performers that do cabaret proud. Pun very much intended.
• Bill Bailey is back at Proud Cabaret on September 15, 16, 22 and 23. Other hosts include Denise Van Outen and Duncan James. Tickets
Review date: 2 Sep 2021
Reviewed by: Steve Bennett
Reviewed at: Proud Embankment
Recent Reviews
What do you think?