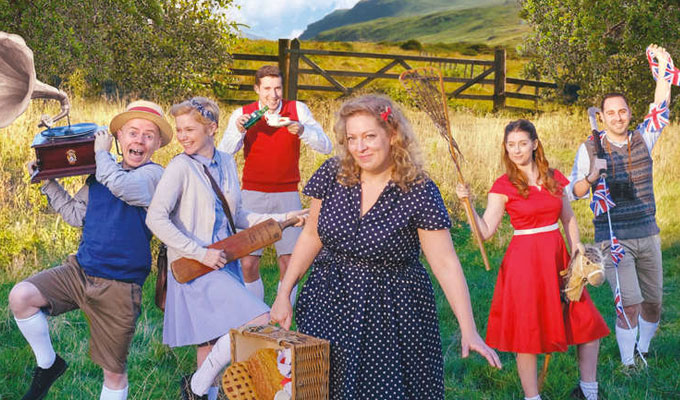 Bumper Blyton
Even if you've never read Enid Blyton, you know the aesthetic: middle-class kids in a bucolic 1950s English setting get up to jolly high jinks and adventures. Gosh!
It was a world so comprehensively parodied by the Comic Strip back in the 1980s, but still provides a strong backdrop for this extended improv show, thanks to its instantly familiar tropes.
This is, of course, not a setting without its problems, and the Bumper Blyton crew acknowledge the racism, sexism and snobbery in the author's work in their preamble. They mock it a little as the story unfolds – especially the misogyny – although there's a limited amount they can really do.
Taking their title and the odd plot point from the audience, the troupe make up an hour-long story, tonight a Famous Five-style adventure about missing lambs. The long-form format is similar to Austentatious – and Amy Cooke-Hodgson (suitably matronly as she drove the story forward here) is a leading light in both.
Unfortunately, the storytelling is nowhere near as fluid as its Regency cousin. Much of the comedy comes from the team reaching to form a coherent plot – and usually falling short. Lashings of creaky links and dubious logic are thrown down in desperation as they must always keep moving forward, and there's only so many times a non-sequitur leap is funny.
There are countless inventive moments throughout that compensate for this, however. I don't know how often they use the device of being interrupted by a radio broadcast, but in this story, it was a delight. And for all Blyton's sexism, it was the women that shone this time, from Rhiannon Vivian's offbeat one-liners (which admittedly sometimes blindsided her colleagues) to Sally Hodgkiss's rule-breaking tomboyish attitude kicking against the author's stereotypes.
It's certainly a stylish production. The team look the part, and piano accompaniment sets the scene charmingly – and even if the ad-libbed songs are uneven, they add a handy extra level of entertainment. But – on the evidence of this show, at least – the story is not slick enough to be involving, nor the gags sharp enough for that not to matter. Jolly rotten luck.
• Bumper Blyton are at Trinity Theatre, Tunbridge Wells, on Thursday and Chipping Norton Theatre on Friday.
Review date: 29 Aug 2021
Reviewed by: Steve Bennett
Reviewed at: Underbelly George Square
Recent Reviews
What do you think?