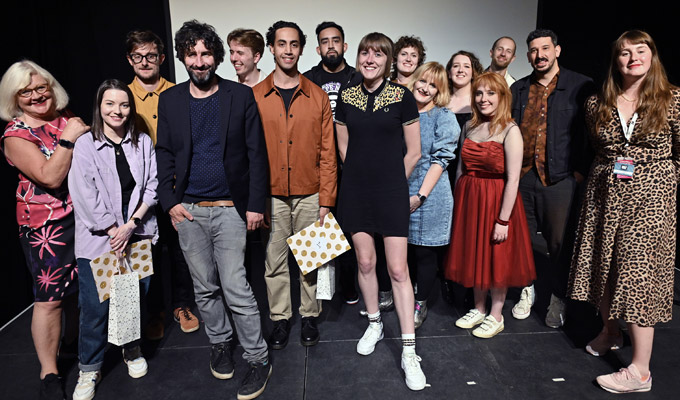 So You Think You're Funny? 2021 Final
What a time to decide to become a comedian! You'd probably get more job opportunities as an aspiring bear-bater than a would-be stand-up at the moment.
Undeterred, almost 450 hopefuls entered this year's So You Think You're Funny? new act competition with little more than Zoom gigs to hone their craft, culminating in this final ten. Whether it's related or not, the 2021 line-up was the most diverse in terms of comedy styles yet, from bonkers prop work to character acts.
Nonetheless, the winner, Omar Badawy fitted the traditional stand-up mould the closest. From an Egyptian family by way of Wales, he offered a slick and confident performance of robust material, much of it playfully messing with the 'must be a terrorist' stereotypes.
His set, the last of the evening, also touched on topics such as his mum's demanding expectations for his life and the age-reversing properties of a hijab, offering a little insight into the life of a first-generation immigrant family.
He was actually the second comic of the night from Egypt, following Phil Marzouk, who kicked off proceedings. Although he covered similar ground about racial prejudices, joking that he could pass for a wide range of ethnicities, there was no overlap. A journalist by day, he's a dynamic performer, who brought along a few props, too. The line that Jesus wasn't as white as the iconography would have you believe is well-worn, but he delivers it with style.
Rae Brogan is a sharp writer with a slightly cynical bent – her take on revenge porn, especially, is a zinger. Her ear for a strong gag breathed life into her stories of coming out and mulling the pros and cons of having kids as a thirtysomething woman. Hers was a tight seven minutes, autobiographical but punchline-driven, which earned her a well-deserved second place on the podium.
Half of Lottie Field's attitude-filled set focussed on sexism in science, from disconcerting TV presenters of her youth to Nasa putting more chimps in space than women. Tying this to the supposed lunar effects of periods was a little convoluted. Still, she navigated it like she was in mission control, and with a delivery that reminded me a little of Bridget Christie. Her takedown of dance lessons was more straightforward, showing off a physical edge to her comedy – and a topic that clearly got her goat.
One-line merchant Farhan Solo had a decent hit rate, specialising in wordplay based on his Islamic background. That his rap name might be Saleem Shady, for instance. He leans a little too heavily and frequently into negative stereotypes, which he might want to mix up a bit more, but there are some fine lines here.
Kathy Maniura is an evident talent who really should have medalled. How can you not love a character act who spends the first few minutes pretending to be a moth at a fashion show? As well as offering a uniquely inventive concept, Maniura packed the set with gags too.
A pretentious lycra-clad middle-aged cyclist might be a more familiar archetype, but she skewered him expertly before offering more jokes from the point of view of his high-vis jacket. We surely haven't seen the last of this creative and funny performer.
Yet she was positively mainstream compared to Nate Kitch, a real WTF? comic, spouting nonsense about chess, losing his rag with a massive cardboard box he'd been using to recreate Zoom gigs and dropping in-jokes about the craft of comedy. The scattergun approach is wildly inconsistent, and he makes no concession to making any of this accessible, but sometimes the madness lands. There's no doubt, too, that he's creating memorable moments. He just needs to figure out how to mould them into something more coherent without losing the craziness that makes him distinctive.
It's remarkable how at home most of the So You Think You're Funny? finalists appeared on stage: not only are they new, they could barely get stage time on a shuttered comedy circuit over the past 18 months
Caroline Maddison was the only one who felt a little lost in the spotlights, pacing nervously. She's softly spoken with an intimate delivery which didn't have the necessary oomph to get the best reaction for her material, especially on familiar topics such as working from home. Nonetheless, she has some interesting things to say about her tinnitus, she just needs more experience under her belt.
In contrast, Andy Watts was in supreme command of his performance, selling jokes hard with an attitude at the junction of confidence and affected desperation in a way that undoubtedly helped him secure the bronze. He takes slightly offbeat topics, but they're always as original as they might seem – others have previously commented that maybe Sigmund Freud's mum was just hot, or on the types of monger you can get.
And I was trying to recall who had a joke similar to his 'life flashing before my eyes' gag, until host Mark Watson later told us – out of the earshot of judges – that it was him, in this same competition, when he was runner-up. Watts surely can't have lifted from his near-namesake, but an odd example of parallel thinking, 19 years apart. Yet other lines were indisputably more original.
Penultimately, Glaswegian Kathleen Hughes offered a proudly unromantic take on dating both men and women, as well as discussing linked issues such as the nonsense of astrology or waxing. It's relatable material from a likably open and adroit performer, if not quite distinctive enough to stand out on a strong bill like tonight's. It was an impressive line-up for any year, let alone this peculiar one.
Review date: 27 Aug 2021
Reviewed by: Steve Bennett
Reviewed at: Gilded Balloon Teviot
Recent Reviews
What do you think?