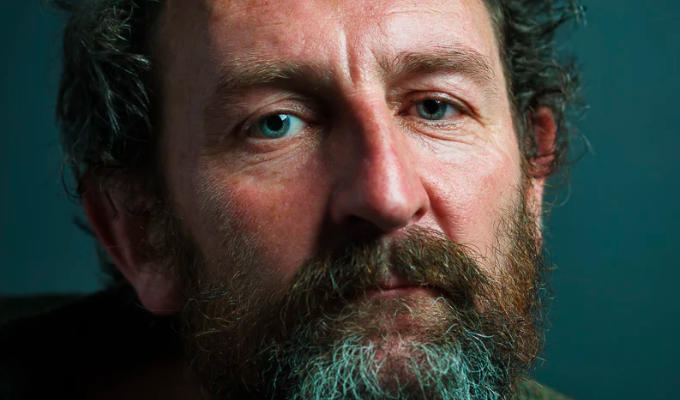 Phil Kay: Alphalfa Male
Phil Kay's such a genuine free spirit that when he tells us he's been living in a ditch these past 15 years, we almost believe him.
A dishevelled, ramshackle presence, he has been peddling his freeform stream-of-consciousness on the comedy circuit for more than 30 years, a living reminder of the placeless roots of those vulgar troubadours who evolved into comedians.
He's happy to be finally settled in an unfurnished flat above a fish and chip shop, he tells us in one of the few fragments of the show which feels like it might have been premeditated. But for most of the hour he jams like a jazz musician, riffing on words and phrases that drift into his untidy mind, occasionally prompted by the audience, in the hope of finding a comedic melody.
Sometimes he finds connections as his random noodling forms into primordial jokes, fragments of wordplay and ideas that he rolls around in his mouth. Often it's just a gentle babbling of notions, partially accompanied by his strumming on the guitar.
You won't see the show I saw, that's guaranteed, but, on this occasion, his flittering brain alighted on Tom Daley, a ditty about regionally protected foodstuffs inspired by somebody mentioning camembert, and relaxation breathing exercises as a substitute for drugs. Speaking of pharmaceuticals, he also mentioned he was unvaccinated, not through any great misplaced principle, but Kay is not the sort of person who ever gets anything done.

There's bafflement among those expecting a more traditional stand-up monologue. Others – probably those who have seen him before – indulge him, knowing that sometimes this alchemy fizzles and pops to create gold.
Tonight? Pyrites maybe… a few glistening sparkles of magic, not quite crystalising. Plenty of gentle titters, no huge guffaws. 'You have been incredibly tolerant,' he says at the end. 'I can do better, I promise.'
That's a needlessly harsh self-review, as there were some laughs here. And he's an engaging presence even when cruising. Having zero pretence is endearing, and he seems genuinely delighted when a gag does present itself.
Inspired whimsy or self-indulgent drivel? Somewhere between the two… but Kay's too long in the tooth to change now.
• Phil Kay: Alphalfa Male is at the Laughing Horse at Bar 50 at 12.45pm tomorrow.
Review date: 23 Aug 2021
Reviewed by: Steve Bennett
Reviewed at: Laughing Horse @ The Counting House
Recent Reviews
What do you think?