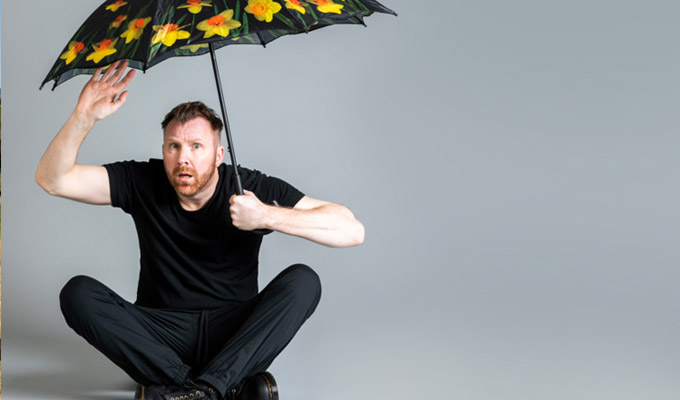 Jason Byrne at the Edinburgh Fringe
Social distancing rules are not good for Jason Byrne, whose shows traditionally climax with a handful of unwilling volunteers on stage doing something stupid. In these times – even with the audience having to provide a swab on their way into the Corn Exchange if they couldn't show a recent negative Covid test – the comedian must provide the hilariously humiliating showstopper himself… and steps up to the plate magnificently.
Audience participation can still happen at a distance, though, and Byrne effortlessly creates running jokes and banter from things the audience say, or that he thinks they say, across the hour. Feigned exasperation at all the idiots he has to deal with is as strong a strand as always – and not just in the room. He paints a vivid picture of his a crazy life, defined by insanity all around. 'Mad' is adjective that's applied to just about everyone in his life – but as a cause for celebration.
With not much happening in the past 18 months, the scripted element of the show comprises tales of the social media pranks which got him banned from TikTok along with stories from his childhood in Dublin of the 1970s and 1980s, which he previously explored in his 2016 memoirs Adventures Of A Wonky-Eyed Boy.
Bryne describes these pre-health-and-safety days with an incredulous nostalgia that he could ever have been allowed to get away with such dangerous exploits unsupervised. But in other ways, it was a regime where discipline was strict and there was no sympathy for children's needs or feelings. Dad Paddy was especially emotionally detached, away in the pub even on the night of his child's birth. Yet this larger-than-life figure also becomes a hero of this story, with Jason posting the hardy wisdom of 'Paddy Lama' online throughout the pandemic.
In this show, Byrne also looks at the passage of time from another direction as his girlfriend, 12 years younger than his 49, makes him consider new ideas – as well as confront his own ageing by comparison.
But his animated delivery on stage must be knocking years off him. As always, his facetious material is sold with a vigour that forcibly drags the audience into his world in which everyone's an eejit, especially him.
• Jason Byrne is at the Edinburgh Corn Exchange at 8.45pm until August 28 and then on tour with his show Audience Precipitation from next month.
Review date: 23 Aug 2021
Reviewed by: Steve Bennett
Reviewed at: Edinburgh Corn Exchange
Recent Reviews
What do you think?