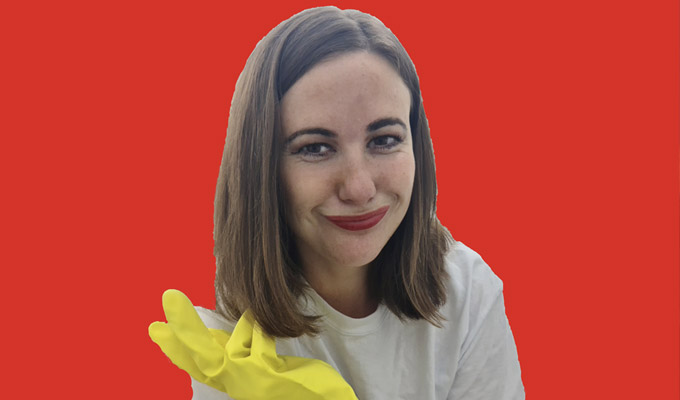 Laura McMahon, One Of The Gals
Laura McMahon's an engaging personality, who hits the ground running with her debut show. But after a strong few minutes, the routines quickly get muddled and the writing and delivery lose confidence – before she finds her stride again with the closing anecdote.
Its blurb states 'if you hate women in general… this isn't the show for you' – and her performance is coloured by a similar tone that sometimes tips into the aggressive rather than the defiant. She assumes we'll all be revulsed by even non-graphic material about periods or hormones when a Fringe crowd who purposely picked this show can probably take it.
After a few strong gags, she settles into the show, saying she doesn't want to talk about politics as 'there are no women doing politics' - which may be news to the Scots. Of course, there could be more female representation, but it seems retrograde for a feminist show to dismiss politics as 'not for girls'.
Instead, she focusses on pop culture, and how female pop stars like Britney Spears are infantilised and male pop stars are always portrayed as brooding and complex (two words to counter that: Jed and Ward). There were some gags about Lana Del Rey, too, but you'd have to know her work better than I to get it, but not all women are above her criticism.
This is where the problems with the show start to emerge - it's a ragtag of thoughts and ideas - sometimes on-topic, sometimes in desperate need of cohesion. She mocks Eminem for a lyric that suggests he still lives at home with mum, yet ignores the context that this is the lot of the character that Lose Yourself is about.
There's a montage of wounded male action heroes to make the argument that it's acceptable to show their blood on screen but not menstruation. But soon she's talking about leaving answerphone messages to herself with little context, her attachment issues and the culture of drinking to make work contacts. How did we get here? This disjointedness wouldn't matter if it were funny enough, but often these are points rather than jokes, ended with a slightly smug 'hmm' and nervous laugh to herself that doesn't signify great confidence.
Yet McMahon doesn't lose the room; she has an innate likeability that holds the attention until she gets a better grasp on her material with the concluding anecdote about an ill-fated trip to Tijuana in Mexico. It's a strong story, even if the way it touches back on some of the earlier points is contrived.
There's potential here - McMahon is astute and opinionated enough to have an angle and an engaging presence – but as a show, it's in desperate need of a script editor.
• Laura McMahon, One Of The Gals is at PBH's Free Fringe at The Street at 8pm until August 24, with additional shows at Banshee Labyrinth at 6pm this Saturday and Sunday.
Review date: 19 Aug 2021
Reviewed by: Steve Bennett
Reviewed at: PBH's Free Fringe @ The Street
Recent Reviews
What do you think?