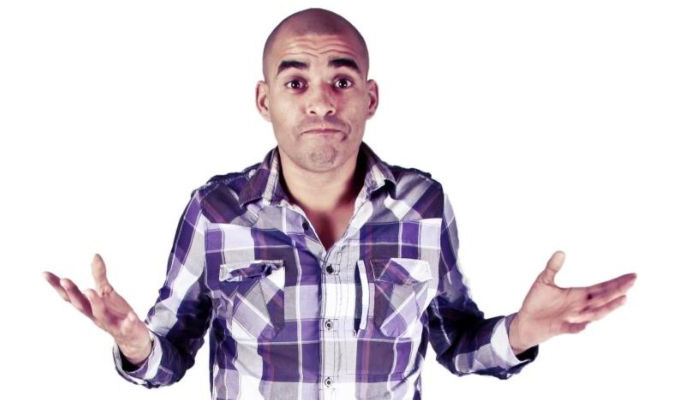 Aaaaaaargh It's 101 Clean/Naughty Jokes In 30 Minutes
It's a savvy move by Masai Graham to effectively split his Edinburgh show into two half-hours - one clean, one naughty - giving him twice the opportunity to shake the donations jar.
His shows continue the long tradition of trying to be first alphabetically in the Fringe programme - even in this year when there is no printed brochure - and have become a staple of the festival. The content is not exactly a mystery either, though this cheerful Black Country comic does have to offer the disclaimer that 101 Jokes is not to be taken literally. Back off, trading standards.
However, the quips are short enough to pack lots into the 30 minutes, and puns abound, especially in the clean show. 'Wa-hay!' is just as likely a response as a laugh as the audience admire the craftsmanship, of which there is plenty, even if doesn't hit them square on the funny bone. But plenty do.
It's no wonder Graham often makes the 'jokes of the Fringe' lists, and won the Dave award in 2016, with a volley of lines that are pithy and suitable for publication in family newspapers. In a subtle demonstration of how delivery is all, he tells one of Tim Vine's gags that beats him, but badly.
We get few insights into his real world, beyond the ridiculousness of a 40-year-old doing this as a hobby, laminating the visual gags in his bedroom.
Graham offers a brief diatribe about how the care industry in which he works his day job has been 'ripped to shreds' by the Tories, But even this is just a set-up for another silly joke. He says he's dyslexic but who can be sure he's not just in it for the gags?
It's not an entirely clean half-hour – Graham can't always stop himself swearing – but the content is 12-rated compared to the 18-certificate naughty show.
Puns abound here too, but based on the likes of oral sex and disabilities, while the sickest joke evokes images of a dead baby. He has to explain a few of the bad-taste references to the younger members of the audience like Jeremy Corbyn and Chernobyl.
it's a good job he comes across as such as nice guy just mucking about because in the wrong hands this would be brutal, but he skirts offence deftly. A big defence is that everyone brought a ticket knowing full well it was going to be near-the-knuckle.
'You guys are evil,' he says after a laugh at one dodgy joke - offloading the responsibility on to us. It's all part of the easy banter he has with the crowd, riffing with latecomers and others, too.
You already know if you are going to like this sort of sick comedy, you don't need a review to tell you. But just at the end, to deflect any criticism of being offensive, comes a revelation about an incident in Graham's life that puts the tough comedy in perspective. Now that was an unexpected twist worthy of his tricksiest pun.
• Aaaaaaargh It's 101 Clean Jokes In 30 Minutes is on at Laughing Horse @ The Hanover Tap at 2.30pm until August 29, followed by Aaaaaaargh It's 101 Naughty Jokes In 30 Minutes at 3.30pm.
Review date: 18 Aug 2021
Reviewed by: Steve Bennett
Reviewed at: Laughing Horse @ The Hanover Tap
Recent Reviews
What do you think?