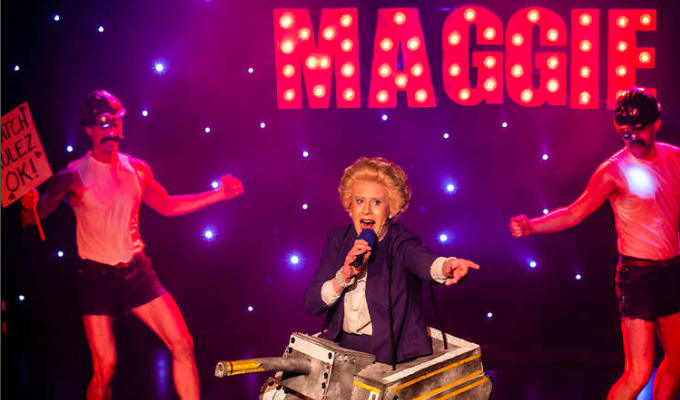 Margaret Thatcher Queen Of Soho
Well, this is the best party Margaret Thatcher ever led.
A few years ago, Matt Tedford astutely realised that the hated former Prime Minister had all the right attributes to be a gay icon: a powerful woman with a sharp tongue and a strong sense of personal style – if only it weren't for the homophobia.
So he turned her into a gloriously camp drag turn, made all the more delicious by the fact that the real Thatcher would absolutely have hated it. The narrative show built around that act is now, like the Poll Tax before it, being tried out in Scotland before being exported to England. First seen at the 2014 Fringe, this over-the-top pantomime about Section 28 – the 1988 Parliamentary move that banned the promotion of homosexuality in schools and brought out the worst in British bigotry – hits the West End later this week after this Edinburgh revival.
Tedford and co-creator Jon Brittain, who directs, have rewritten history to make Thatcher more suspicious of the clampdown her party wanted. And, after getting lost in Soho on the eve of the crucial vote, the Prime Minister is swayed by the kindness of the gays she meets and vows to kill the Bill.
Yes, we are expected to root for Thatcher, but Tedford's fabulous performance makes that easy: he sparkles, cheerleads, wisecracks and struts around the stage, commanding devotion. That he sometimes lets us see the man beneath the steely-coiffured wig endears too, with moments of corpsing and ad-libs that delight.
He's aided by two muscular, moustachioed and underdressed sidekicks, Hesel and Tine, the object of several outlandishly crass double entendres. They play the full supporting cast from Cabinet Ministers to campaigner Peter Tatchell (portrayed with over-the-the-top Flashheart-style swashbuckle) and the villain of the piece, MP Jill Knight, who engineered the hated legislation.
There are lots of in-jokes for those of us who remember the Eighties, but it doesn't matter if you don't. The whole production is a load of hokum and we – and Tedford – know it and celebrate it.
There is a political undertow and positive social message, but such considerations come a distant second to ridiculously overblown scenes and boo-hiss melodrama backed by some cracking Eighties pop classics and repurposed showtunes.
Who knew Parliamentary procedure could be such camp fun?
• Margaret Thatcher Queen of Soho is at Underbelly George Square at 8.30pm tonight, then transfers to London's Garrick Theatre from Thursday to Saturday.
Review date: 15 Aug 2021
Reviewed by: Steve Bennett
Reviewed at: Underbelly George Square
Recent Reviews
What do you think?