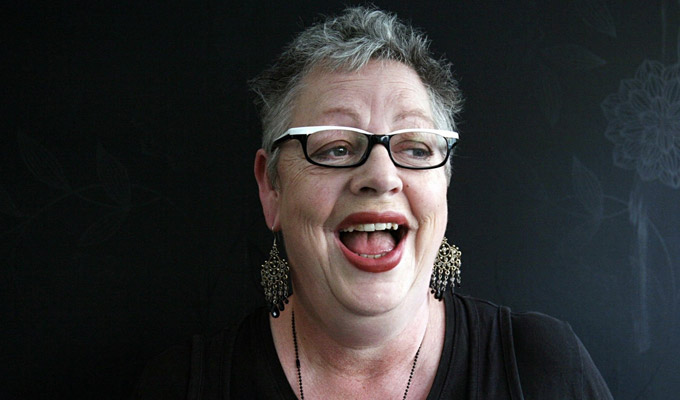 Jo Brand at Latitude 2021
Her demeanour's downbeat at the best of times, but Jo Brand seems mildly dejected by the reaction her set that brought Latitude's comedy offering to a close.
'You're all subdued,' she laments. 'I get the feeling I'm not the sort of act you were hoping for to end this.' The supportive applause that her comment elicits suggests otherwise, and prompts her to insist she wasn't fishing for sympathy.
It was certainly a low-key routine, with her more meandering digressions unlikely to raise the roof. But she's her Grande Dame of Comedy title has been hard earned, and the respectful crowd listened attentively… at least once James Vincent McMorrow stopped drowning her out from the main stage.
Certainly some routines run into dead ends. All can agree that a George Cross for the collective 1.4million NHS workers is an empty gesture, but the joke doesn't quite solidify. Yet anecdotes from her own medical past hit the spot, charming and repulsive in equal measure.
A bit on predictive text is surprisingly unremarkable, given how many jokes have been made on it, and several topics seem to be general gripes in search of a punchline. Ditto with observations she found mildly funny, but doesn't extrapolate from.
Yet there were plenty of flashes of her astringent wit elsewhere – ranging from cleverly barbed lines to just base abuse, funny for its brutality. A story about a personalised cake mix-up is a joy for the image it elicits, and the description of thin old people is both savage and an affirmation for her own dietary choices.
She has little patience for most things, especially exercise, ageing (she turned 64 this weekend), and her husband. At least for comic effect. Yes, it's a little familiar, but if you don't know what you're getting with Jo Brand by now, where have you been?
So no, not a barnstorming end to the weekend - but a solid one.
Review date: 26 Jul 2021
Reviewed by: Steve Bennett
Recent Reviews
What do you think?