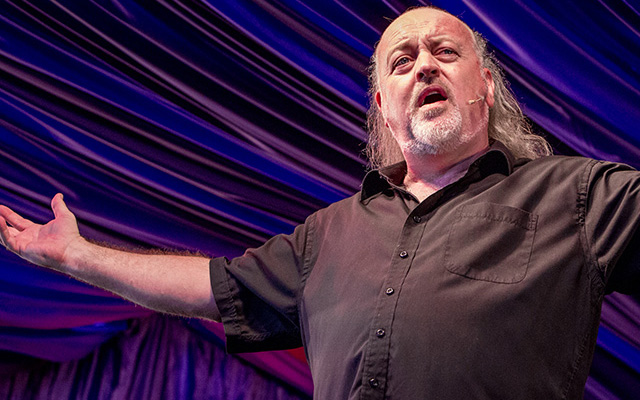 Bill Bailey at Latitude 2021
How did Bill Bailey get to play the main Obelisk Arena at Latitude? 'I'm a competition-winner,' he jokes… that competition being a little thing called Strictly.
Not that he's a stranger to such big-stage bookings since headlining Sonisphere a decade ago. He was here in Suffolk in 2016, too, in the comedy arena, with a set defined by his continuing shock at the Brexit vote a month earlier.
This year, he serves up more of a miscellany, a one-man festival in 45 minutes, using the big-stage opportunity to showcase his musicality, spanning the genres and incorporating some of his greatest hits.
There's a dance track based on the iPhone ringtone; Old McDonald as reinterpreted by Tom Waits; an Appalachian blues song played on a converted Bible and plenty of metal incorporating a table full of hand bells and a rack of old-school car horns. He segues from Metallica to Irish folk and you barely see the join.
Throw into the mix a poem to the realities of long-term love, in honour of his own 25-year relationship, and, of course, plenty of stand-up. There's no thread here, either, with a granular set that nimbly jumps between the lack of authority in the West Country accent, things he's overheard in a cafe, TripAdvisor reviews of pound stores - all generally keeping things light and amiable.
Bailey briefly lets his true feelings come out at the rancid state of politics, including a delicious ad hominem attack on Michael Gove – which he insists, unconvincingly, is not meant in a bad way – but soon moves on. The momentum of the set comes entirely from the increasing intensity of the musical numbers: starting with a little 'sing-song' to California Dreaming, crescendoing towards the rockier numbers.
A Sunday morning festival gig bathed in surprise sunshine is always going to be a chilled affair, and Bailey's warm easy-going hotchpotch fits the, erm, Bill. Thousands wander out of the arena happy, even without the sense of purpose which usually lurks between Bailey's apparently absent-minded demeanour.
Review date: 25 Jul 2021
Reviewed by: Steve Bennett
Recent Reviews
What do you think?