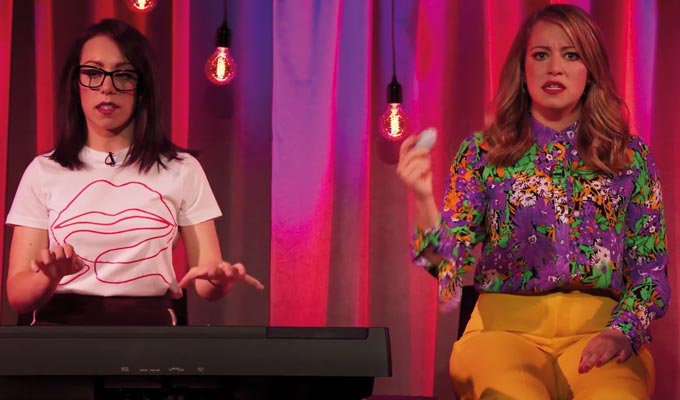 Flo and Joan at Latitude 2021
Flo and Joan offer tight, old-fashioned melodies with delightful vocal performances – but the ear-pleasing sonics are matched with spiky lyrics that delight the brain more. A perfect combination for a festival that makes a prize of its erudition, like Latitude.
The siblings' tight songwriting is underpinned by strong autobiographical observation, solid joke-writing and some barbed social comments. It's the harmonies of Frankie Valli with the sensibilities of Frankie Boyle – and blew the canvas roof off the Comedy Arena this afternoon.
Their arid deadpan banter between songs might have softened a little over the years, but they continue to underplay their considerable talents – almost as if performing itself is yet another irritant for them to roll their metaphorical eyes at.
Today's opening number sets off their modest demeanour against their pledge to be more confident. They are becoming fierce superbad queens – but in a very polite, repressed way. Potshots against the unearned self-assurance of white, middle-class men are slyly incorporated, too.
Any vows towards confidence are belied in songs that feed off their public embarrassment. Rarely has social anxiety disorder been so funny or jaunty as in their song, while their epic about a long night's drinking in all its shameful, accurate detail, is a crowd-pleaser among crowd-pleaser. And while most their work is rooted in reality, they add absurd twists as gratifying surprises.
Tracks are intricate – except for the musical one-liners that deliberately aren't – and deliver extra gags in their musicality. The melody is not just a vehicle for the verbal gags, but funny in its own right. And where else would you hear an egg-shaker solo?
The only complaint is that, at under half an hour, Nicola and Rosie Dempsey's set could have been so much longer, giving time to reprise some of their greatest hits. But that can be addressed when they come back in the bigger, better slot they could so easily dominate.
Review date: 24 Jul 2021
Reviewed by: Steve Bennett
Recent Reviews
What do you think?