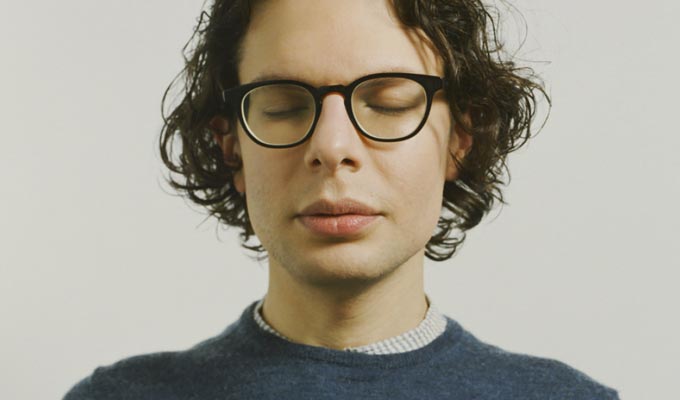 Simon Amstell at Latitude 2021
Previewing his autumn tour at Latitude, Simon Amstell returns to the big themes of shame, ego and how to be free of these toxic twins that have long defined his intelligent, introspective stand-up.
Of course he has stories about how his vanity manifests itself, especially a cornerstone routine about a trip to New York where he seized the freedom to reinvent himself but quickly fell back on his accomplishments to impress the hot barman he was trying to pull.
Another winning section speaks of insecurities and self-image on a broader scale as the comic pokes around the nonsense surrounding notions of masculinity. The more corrosive elements of the topic take a back seat as he mocks the way the marketing business targets men, but his message is more effective for using ridicule not polemic.
As what's meant by 'manliness' is in the ether for society as a whole, Amstell isn't the only comic working in this field - but he always brings a new perspective, killer off-beat punchlines and an obsessive honesty to his work.
But mostly, this early version of his Spirit Hole tour is as personal as ever. Amstell's never far from speaking about himself: such as moving on from an observation about the way we fetishise youth to how he can't take a compliment about his own fresh-faced appearance without extrapolating a less flattering hidden meaning.
Speaking of which, at 41, he's still worried he's unprepared for the responsibilities of adulthood, such as addressing the question of whether he's ready to be a father – a dilemma he'd thought his sexuality had allowed him to duck.
Again and again he returns to the gap between the flawed, vain human he really is, and the ideal of version of himself he holds in his head - which is of course where plenty of comedy is to be found.
The Latitude crowd is slightly over-supportive, with sections of the packed comedy tent applauding statements of self-improvement, ignoring either the irony or the certainty he's setting himself up for a fall.
Amstell has previously spoken of his trip to South America for the ritualistic consumption of the hallucinogen ayahuasca to rid himself of the trappings of ego, which he returns to here with a briefer, but no less embarrassing, story of the mind-bending experience. And this time around mushrooms also make an appearance as a possible salve for life's troubles.
But for those seeking a simpler, funnier way to see life in a new light, a Simon Amstell gig is a definite tonic,
• The final version of Spirit Hole tours from September 8 to November 8. Click for Simon Amstell's tour schedule.
Review date: 24 Jul 2021
Reviewed by: Steve Bennett
Reviewed at: Latitude
Recent Reviews
What do you think?