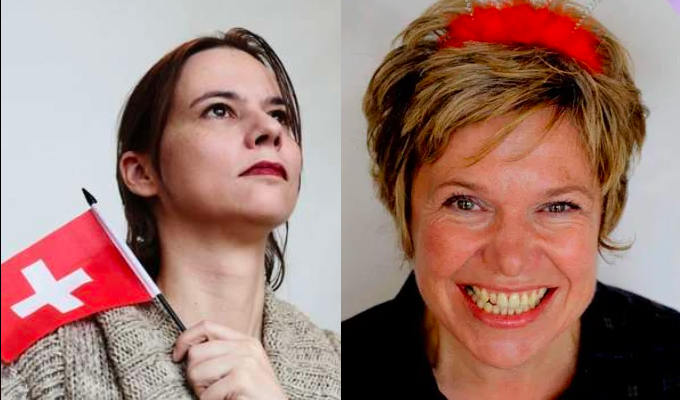 Ali and Fran: Intense!!
Fran and Ali is a two-hander, rather than a double act, even if their contrasting chalk-and-Swiss-cheese personalities might seem ideally suited for comic juxtaposition.
The show is topped and tailed by a joint sketch, involving them lip-synching to their own voices, but the comic intent of this convoluted idea is unclear and the execution muddled, unsure where it hopes to find the funny.
Fran Kissling is a Swiss stand-up – ramrod-straight and frigidly unemotional, she makes the stereotypical German seem emotional and frivolous. She unemotionally deconstructs the rules of comedy by coldly following them to the letter, but with no empathy for humour. It's a formula that's been proven to work before, and her robotic delivery executes it with the efficiency you'd expect.
Better yet is when she applies that inflexible logic to a joke or observation, exposing the absurdities of language or behaviour like she's debugging computer code. There are some strong, original gags here…. although she is wise to break up the set with another comic lest the arid deadpan become stifling over an hour.
Ali Macfarlan couldn't have a more different style: she bursts with the sort of jolly-holly-sticks energy that would put Anneka Rice to shame. But it's not long before another exuberant plummy blond springs to mind: Boris Johnson
For she's all bluster and no substances, stumbling into routines full of appealing pep, but with no clear idea of how they'll play out or end - all headlines and no detail. The lack of focus quickly becomes very apparent, and it's not long until she starts showing us FaceApp manipulations of her photographs. We could have stayed home and browsed social media for this!
At least she has a good excuse for such unpreparedness as she's a health worker who's been in the hospital front-line for the past 15 months, with slightly more important things to stress about than a punchline to a semi-whimsical bit about snails.
No doubt her real job also informed her character of Jan, the face of track-and-trace - another routine that goes on too long with too few punchlines as waypoints. But at least this disaster wasn't £37billion in the making...
Review date: 21 Jun 2021
Reviewed by: Steve Bennett
Recent Reviews
What do you think?