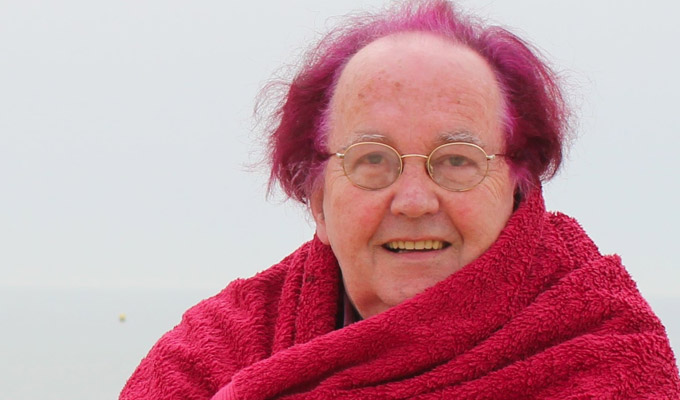 Gerry Carroll: When I Was Alive
The inventive idiots at the cult Alternative Comedy Memorial Society night have a permitted heckle: 'A failure - but a noble one.' That cry might have been invented for Gerry Carroll
A genial Irishman in the second half of his 60s, he could be forgiven for spending his Sunday lunchtime with a pint and the newspapers. Instead, he's donned his brightest shirt, dyed his hair red – badly – and taken to the stage to try to entertain an audience of two. And I think he knows the other ticket-holder.
He introduces himself as a gentle clown-type comedian, a description he fills in his best section: some silly prop work with a couple of shot glasses that's charmingly ridiculous in a 'dad joke' kind of way. His catchphrase 'a man in my position…' is nice too, pompously suggesting an elevated station that reality cannot match.
Along with the clowning sits some amiable, but lightweight, reminiscences about his upbringing; hit-and-miss poems (a contemporary, relatable one about a Zoom embarrassment being the stand-out), some absurd nonsense-talk that never quite takes off and a tap-dance to Singing In The Rain.
None of this zings, nor does it fall into the 'so bad it's good' territory, leaving the show in an unfortunately fallow middle ground of under-heated stand-up and clowning.
Yet there's something charmingly defiant about a man who only started performing in his seventh decade, throwing away propriety to put on a show with not apparent greater ambition than his own amusement. He performs with pep and a sense of fun, and that rubs off on us, banishing any awkwardness about being in such a small crowd.
• Gerry Carroll: When I Was Alive returns to Laughing Horse @ The Quadrant in Brighton next Saturday and Sunday at 1.15pm
Review date: 21 Jun 2021
Reviewed by: Steve Bennett
Reviewed at: Brighton The Quadrant
Recent Reviews
What do you think?