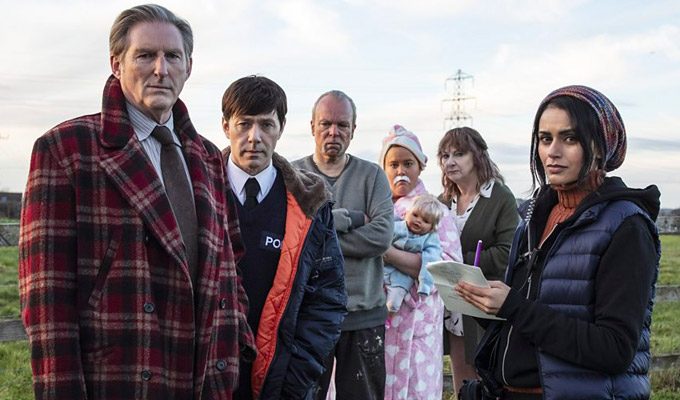 Inside No 9: Hurry Up And Wait
This week's episode of Inside No 9 hit that sweet spot between spookiness and humour that Reece Shearsmith and Steve Pemberton are so good at finding. And a large part of that is down to the very game guest stars, playing against type.
Hurry Up And Wait takes place during the filming of one of those ITV dramas based on a true-life crime that Jeff Pope is so good at writing, that he even gets a generous namecheck or two here. It's on location in a static caravan park, the scene of a dreadful crime 20 years ago, where one family has agreed to let the film crew used their home as a green room.
Shearsmith plays a bit-part actor called James, who has one scene as a copper opposite Ted Hastings himself, Adrian Dunbar, in a casting coup in which he sends his his image up something rotten. Unless he really is as insufferable and greedy for screen time as this exaggerated alter-ego suggests.
The exchanges with him and Shearsmith offer some dry comic relief against the darker moments. For as he tries to run his lines, the good-natured James gets the feeling all is not right, maybe even sinister with this family.
There's clearly something weird about Bev (Donna Preston) - a real grotesque with hair-removal cream over her face who could be a refugee from Psychoville. Dad Stan (Pemberton) is a tarmacker who cannot disguise his disgust for fey actors, again offering a nice combination of menace and humour as he rubs up against his unwelcome housemates. And never did Pauline McLynn's offer of tea ever feel quite so unsettling when she was on Father Ted.
Poor old James could probably do with something stronger if he's right about what's going on under the surface…
• Inside No 9: Hurry Up And Wait is now available on BBC iPlayer.
Review date: 31 May 2021
Reviewed by: Steve Bennett
Recent Reviews
What do you think?