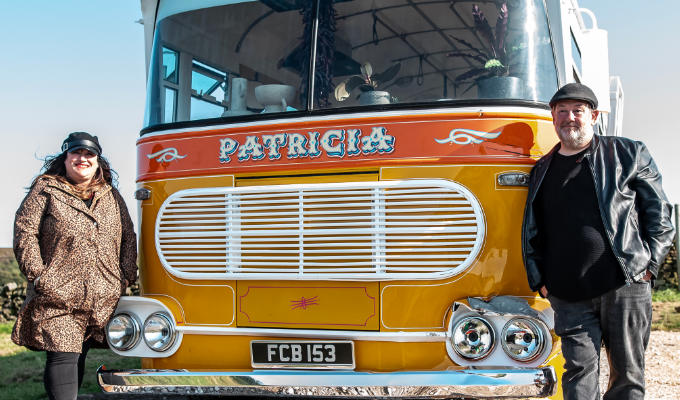 Johnny Vegas: Carry on Glamping
You might not think you care much about the structural integrity of the panelling on a knackered old bus… but thanks to Johnny Vegas's enthusiasm, you will.
Doing up the rust-bucket he imported from Malta after a drunken 2am eBay session is the cornerstone of his dream to open a high-end glamping site, which is charted in this new four-part Channel 4 series.
And while 'Glamping with Johnny Vegas' might sound like a commissioning idea desperately blurted out by a panicked Alan Partridge, the stand-up's passion and personality make this programme so much more.
Even at his most drunkenly outspoken, there's always been a thwarted romanticism at the heart of the Vegas persona, a raging frustration that the world has conspired to deny him the life he so desperately wants.
In real-life Michael Pennington mode, the impotent fury may be absent, but the vulnerable dreamer remains. You can almost feel the love coming through the screen as he gazes, doe-eyed, at the beaten-up bus he fell for, imaging their beautiful future together. Seeing her for the first time, his eyes like up like an eight-year-old on Christmas morning.
But dreams and reality are very different things, a problem Vegas struggles to acknowledge. Before he starts, and full of 'seize the day' spirit, he gathers his family and friends (including comic Ian Boldsworth) at his St Helens local to excitedly share his vision.
Every one of them pours cold water on it, citing his tendency to have ideas he never sees through – and suspecting all the hard work will unfairly land on the shoulders of his long-suffering assistant Bev Dixon.
He promises it won't, but you can see that eight-year-old again, begging for a puppy and absolutely promising he'll walk it every day and not leave it to mum to look after…
Yet progress is made - thanks, one suspects, to quite a lot of behind-the-scenes work from the ever-patient Bev. A suitably picturesque site is found in the foothills of Snowdownia and, after a few logistical setbacks, the bus arrives in Britain.
Then some expert vehicle restorers deliver a home truth that hits hard, putting the dream project in jeopardy.
With Vegas wearing his heart so openly on his sleeve, you can only root for him against such setbacks. At the same time, his palpable passion for old vehicles enlivens his exchanges with other devotees he meets.
Yet for his larger-than-life persona, he's overshadowed in this first episode by his doughty mother Patricia, a woman for whom the phase 'a bit of a character' seems sadly deficient. Her pouring scorn on his stand-up career is a wonderful scene. Sadly, she died since it was filmed, but Vegas got the chance to tell her that he would name his bus after her – an honour she immediately mocked.
While Carry on Glamping has the usual Grand Designs-style arc of setbacks and triumphs on the road to an artistic vision, it's a little loser than the usual template, as befitting a comic of Vegas's impetuousness. Meanwhile, the insights into his character add an extra dimension that will have you coming back for more.
• Johnny Vegas: Carry on Glamping is on Channel 4 at 10pm tonight
Review date: 5 May 2021
Reviewed by: Steve Bennett
Recent Reviews
What do you think?