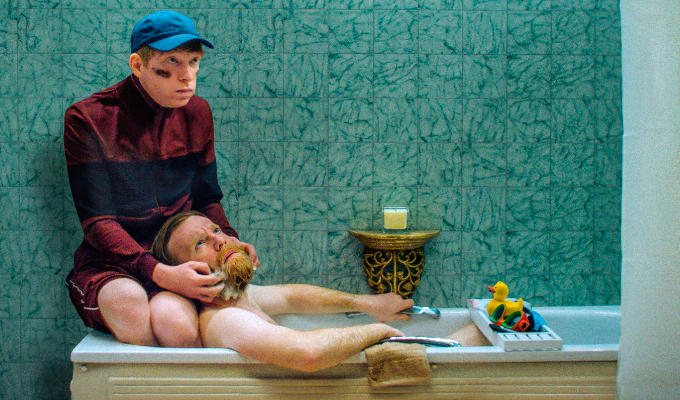 Frank Of Ireland
Ireland has been at the forefront of slightly bonkers sitcom of late – and Frank Of Ireland is the nuttiest of the lot.
The title character could almost be one of The Young Offenders grown up – though the term has to be applied loosely. Frank, as played by series co-creator Brian Gleeson, is as feckless as they come, still living at home at 32, still dreaming of a life as a musician (but way too lazy to do anything like a gig), still sure a long-dead relationship might fire up again, even though his ex has moved on.
His best mate in a typical dumb-and-dumber partnership is the acquiescent Doofus (Brian's brother and co-creator Domhnall Gleeson), occasionally voicing some reservation about his pal's latest madcap idea, but generally so pliant as to always go along for the ride.
The pair naturally cause chaos wherever they go – a wake and a funeral in episode one for maximum inappropriateness. There's such cartoonishness to their myopically selfish actions and the havoc that ensures that you could easily imagine Homer Simpson in similar scrapes.
Frank Of Ireland is as impetuous and messy as its lead character, but what it lacks in sophistication it makes up for by cramming the jokes in. And its innate earthiness is precisely what elicits the laughs, of course, and often at the most improper of places. On that measure, the comedy scores highly.
But the lead character isn't as forgivably endearing as you might want, and sometimes – as in a crude obsession with anal sex - that lack of charm grates.
Yet there's chemistry between the brotherly leads, some big gags played well, and a couple of strong supporting turns, most notably Frank's formidable single mum Mary (Pom Boyd), who's as casually self-serving as her son, and even more sexually active.
It's a squally, inconsistent show, and one that could certainly do more to make the viewer want to spend time with these aggressively dysfunctional characters. But if you don't mind the lack of depth, Frank generates his share of primal laughs through sheer commitment to the mayhem.
• Frank Of Ireland is on Channel 4 at 10pm tonight, then all episodes will be available on demand on All4.
Review date: 15 Apr 2021
Reviewed by: Steve Bennett
Recent Reviews
What do you think?