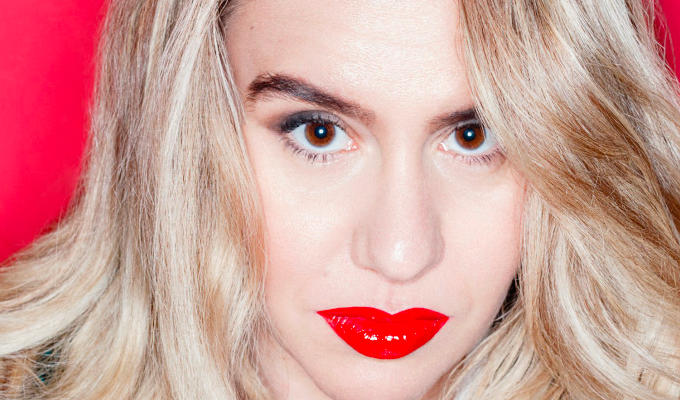 Michelle Brasier: Average Bear at MICF
Michelle Brasier doesn't mean to be rude, she's sure that all of our funerals will be a hoot – but her dad's was the funniest.
Brasier – previously best known as half of the award-winning cyclone of whip-smart sketch that is Double Denim – has returned to the solo arena with a deeply personal song-fuelled show that involves the deaths of two immediate family members and her own experience of a gruesome accident and grim health prognosis.
It's a lot to put on a room of strangers, but far from leading a grim march Brasier takes her audience by the hand and steps us through a consistently hilarious journey from a safe and unremarkable youth – when an unrequited crush on a fictional character was as tough as things got – to an adulthood with more than its fair share of the 'life experience' she had yearned for.
With an exceptional singing voice and the musical backing of her life partner Tim Lancaster, Brasier illustrates these snapshots with some unforgettable tunes. At one stage she leads the entire room through a ribald paean to Young Love In The Summertime that deserves to become an Australian standard - creating a sense of communion that serves her well in the pathos-filled final third.
It's likely worth emphasising at this point how much unqualified fun this show is, with Brasier's astute timing and well-judged asides elevating strong material and a judicious pace that never leaves yawning gaps between laughs, with some dramaturgical credit surely due to director Gillian Cosgriff.
It would be a stretch to say that the structure is flawless, something Brasier herself acknowledges at the close as she justifies brief appearances of the titular character who cameos at the top and tail of the hour (and apparently played a more significant role in earlier versions of the show before Brasier found the confidence to tell more of her own story). It's a compelling argument that in the end creates a runway to stick what might have been a difficult landing.
Ultimately, Average Bear is an ode to staring into the void and pulling a funny face, a challenge the endlessly charming Brasier was seemingly made for. A standing ovation is as inevitable as death, with everyone present seemingly wiping an eye and glad to be alive.
Hard to ask for much more than that.
Review date: 15 Apr 2021
Reviewed by: Patrick Horan
Recent Reviews
What do you think?