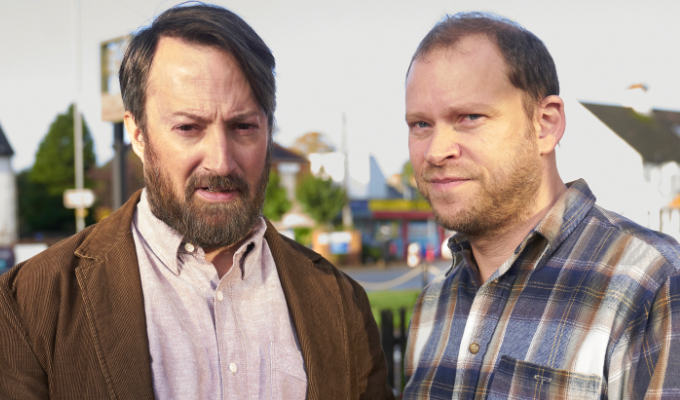 Back series two
To judge the new series of Back on the strength of its first episode would be like ruling on a movie on the first 20 minutes. For while the show is certainly funny, the main aim of creator Simon Blackwell is to set the wheels in motion for a captivating psychodrama that will play out over the following five weeks.
In the first series, more than three years ago, we saw how David Mitchell's beta-male character Stephen was gradually nudged towards madness as what he assumed would be his destiny – running the country pub bequeathed to him by his father – was taken from him by the effortlessly assured interloper Andrew (Robert Webb), asserting that he was a long-lost foster-brother.
A stay in a tranquil 'wellness centre' has, apparently, set him right and he's now relaxed and centred as he returns to his sleepy rural hometown - although from the moment he walks through the doors of The John Barelycorn Andrew is back to his confidence-undermining tricks.
Mitchell and Webb are playing close to their familiar characters. Stephen pedantically fretting about the correct plural of Cup-A-Soup is surely peak David Mitchell, while Andrew is what Peep Show's Jez could have come if he ever applied himself: a manipulative sociopath.
There's touches of the great Ever Decreasing Circles, too, with a petty little Englander being outplayed by a suave, confident rival – and with a supporting cast of oddballs.
Here, Stephen seems to be being set up for a fall courtesy of the P:UB a pretentious gastropub opening nearby, marking the gentrification of the village. While in the oddballs category we find daftly meek barkeepers Mike and Jen flighty sister Cass, and Geoffrey McGivern's unreconstructed barfly Geoff, who is mainly a vessel for swearing. Surprisingly, this isn't always particularly artful.
But it's only a small minority of Blackwell's many funny lines that doesn't hit the spot, and the rants he gives to Mitchell, especially, are things of joy. But the main attraction is seeing just how Andrew's Machiavellian machinations are going to play out over the forthcoming episodes.
• Back series two launches on Channel 4 at 10pm tonight.
Review date: 21 Jan 2021
Reviewed by: Steve Bennett
Recent Reviews
What do you think?