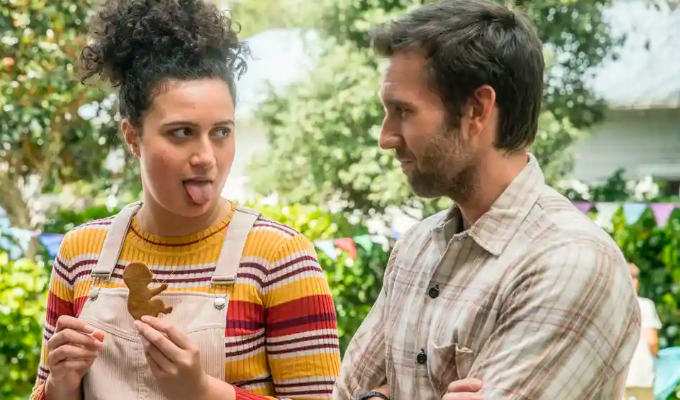 Baby Done, with Rose Matafeo
What a difference three years can make. In 2018, Rose Matafeo made her big-screen debut in the New Zealand romcom The Breaker Uppers, where she was listed 22nd on the IMDB cast list for her role as 'checkout chick'.
Now, as the lead in Baby Done, an entire movie rests on her shoulders, in a role that requires her to delicately balance relatable drama, dry humour and occasional cringe comedy in a sympathetic central character. And she nails it.
The former Edinburgh Comedy Award-winner plays Zoe, a free-spirited suburban tree surgeon, lacking both responsibility and ambition, beyond making her first trip overseas to the world tree-climbing championships in Canada. Otherwise she's content to lark about in a state of arrested development with her partner Tim, played by Matthew Lewis (Neville Longbottom in the Harry Potter movies) and twentysomething mates who haven't yet succumbed to settling down with children.
However, this state of unencumbered bliss is derailed by the news that Zoe has, unexpectedly, become pregnant, prompting an identity crisis bordering on a slow-burn breakdown. 'I want to have a baby,' she says in the line that sums up the whole film. 'I just don't want to turn into a mum.'
She essentially goes through stages of grief for her old life, with plenty of denial followed with the bargaining that she'll be ready for motherhood once she gets through a to-do list of experiences she feels she'll miss out on once 'Speck' is born.
A male-led Hollywood comedy would surely focus on the excesses of such a bucket list but Baby Done has more realistic, indie, character-led sensibilities, and instead centres on the diverging attitudes of reckless Zoe and sensible Tim, who accepts it's time to grasp a new, mature chapter in their relationship even if his other half doesn't.
In their tender moments they share a quietly witty to-and-fro of two people content in each other's company, which writer Sophie Henderson mixes with more obviously comic set pieces, including one of the most awkward threesome scenes ever committed to film and Zoe's awful encounters with 'preggophile' Brian (Nic Sampson), a man turned on by expectant women.
Mostly these stick the right side of slapstick as director Curtis Vowell (Henderson's real-life partner) rightly brings out the strong, underplayed chemistry between the leads and the bittersweet conflict of their emotions through this life-changing chapter.
Regardless of what skills are deployed off-screen, however, this is undoubtedly Matafeo's movie, with a compelling central performance establishing her not only as a subtly funny presence, but an empathetic one, too. Even when her character's acting appallingly, you still root for her. That has to augur well for a long screen career.
• Baby Done is released tomorrow on digital platforms.
Review date: 21 Jan 2021
Reviewed by: Steve Bennett
Recent Reviews
What do you think?