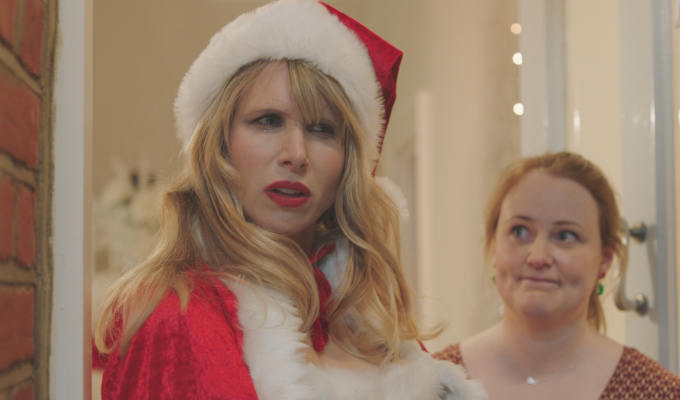 Previews of BBC Christmas comedy specials
The BBC has been slammed for a Christmas schedule that's heavy on animated films, reruns and Mrs Brown's Boys – criticism which seems a bit harsh given this has not exactly been the easiest of years to film stuff.
However, tonight there's a great run of festive comedy programming, none of which the Corporation, in its wisdom, included in its previews list of weekly highlights circulated to journalists. No wonder it got a pasting in the press when thus line-up was left out!
Ease yourself into the night with Mortimer & Whitehouse: Gone Fishing (6.30pm, BBC Two), which is always as welcoming as a warm bath - even if the water the pair often end up waist-deep in is a little chillier.
For this hour-long special, the pair head to Bob Mortimer's childhood roots in Middlesbrough to fish the River Esk and Tees, and visit the pretty harbour village of Staithes.
If you think this show is about catching fish, you can't have seen it. That task is a distance third between revelling in the delightful friendship between the two and their affectionately funny banter, and the lavish shots of Britain's most beautiful scenery.
A similar warmth runs through Ghosts, whose festive edition comes to BBC One at 8.30pm. The nominal plot is that Mike (Kiell Smith-Bynoe) wants to put on the perfect Christmas as his family visits the crumbling pile that is Button House. Needless to say that doesn't go to plan as he gets wound up by their meddling.
So far, so sitcommy. But of course it's the titular spirits who make this show: an ensemble of eccentrics, so skilfully played by a cast of fine comedy performers, of the like that's rarely been seen since the days of Dad's Army.
Of these, it's Nineties Tory MP Julian (Simon Farnaby), who died with his trousers down, who takes centre stage in this episode, having a Scrooge-like epiphany. Meanwhile, Caveman Robin (Laurence Rickard) insists Christmas is a passing fad, lovelorn poet Thomas (Mathew Baynton) tries to get Alison (Charlotte Ritchie) under the mistletoe and Lolly Adefope's Kitty is just giddily happy to be involved.
They're all oddballs, but loveable ones, and spending time with such people is surely what Christmas is all about.
At 9pm, another of the Beeb's modern comedy gems, Motherland, gets its festive special on BBC Two, The patents, especially Anna Maxwell Martin's Julia, are frazzled at the best of time and Christmas only ratchets up the tension.
Covering the regimented party planning of uptight Amanda (Lucy Punch), school nativity plays and Kevin (Paul Ready) trying to pull off Christmas single-handedly, writers Sharon Horgan. Holly Walsh, Barunka O'Shaughnessy and Helen Serafinowicz inject the pointed wit of hard-won experience into the cynical script, which still manages its moments of tenderness.
At 9.30pm, Walsh moves in front of the camera as a panellist on the festive edition of QI's R series, entitled Rejoice! Alongside show debutants Justin Moorhouse and Chris McCausland, the challenge is on to shatter a few festive-themed world records.
Then at 10pm, back on BBC One, it's the Christmas special of King Gary, with well-intentioned Essex bloke Gary King (co-writer Tom Davis) offering to pay for the festive illuminations in Butterchurn Crescent after a bit of good news at work.
Romesh Ranganathan makes a reappearance as the title character's dour neighbour in this broad, brash - and frankly a bit patchy - comedy of working-class-done-good excess. But it's not without its moments, and Laura Checkley is always a pleasure as Gary's wife Terri.
Review date: 23 Dec 2020
Reviewed by: Steve Bennett
Recent Reviews
What do you think?