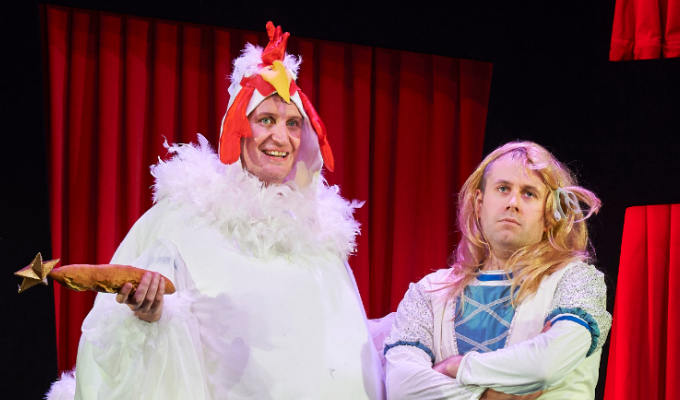 Potted Panto
It's not, of course, the normal panto season. And while we all wait for a moment where we can look back at this age of Covid restrictions and holler, 'it's behind us!', what productions do go ahead must be pared down.
Perfect, then, for Potted Panto: a 70-minute romp through six (or so) seasonal family favourites with just two (or so) actors that's been knocking around for a decade. The helpfully limited cast, they note, is something that Mamma Mia! doesn't have, which is why they find themselves on a West End stage that might otherwise have lain empty.
Our guides through the world of panto are Dan and Jeff, a double-act who not only sound as if they could a CBBC presenting duo, but act it too, with all the bright, theatrical bonhomie you would expect, and possibly fear.
Their dynamic follows the time-honoured dumb-and-dumber formula with Jeff (Jefferson Turner) as the grown-up, feigning to attempt a serious guide to the panto tradition, and Dan (Clarkson) representing the children: silly, mischievous and inattentive. His purported ignorance of the genre allows the pair to have some postmodern fun will all the usual tropes – not that such mockery is rare in 'real' Pantoland – and question the sometimes dubious ethics of the fairytales.
There are some decent jokes – including a childish vomit gag that's over-milked hilariously – and, of course, some awful ones. You even get a smattering of the mildest of cheeky satire, especially as we hear of the one-time mayor of London, an incompetent tousle-haired posho whom everyone greets by calling 'Dick'. Yet for all the meta elements, the most memorable moment is a good old-fashioned scene of daft participation, as the audience abandon any reserve to embark on a 3D coach ride with Cinderella.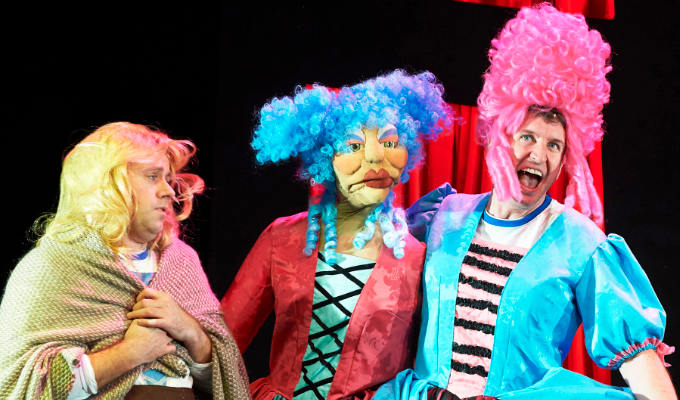 The pace means Dan and Jeff needn't be too concerned with things like plot or logic. Aside from a rather directionless attempt to fuse Aladdin with A Christmas Carol, long foreshadowed but ultimately muddled, this matters not. The show, like so many in this genre, is built almost entirely on the performers' jaunty chemistry as they muck about. Occasionally they genuinely seem to be making each other laugh, but for the most part slickness is the watchword: crucial for fast costume change, but a slight detriment when it comes to knockabout looseness.
The audience, young and old, were encouraged to shout and sing, which came as a surprise to me, as such aerosol-spreading activities were frowned upon at comedy shows over the summer, though apparently the guidelines have changed. It was just one element that managed to bring a chunk of normality to a show performed to a half-capacity audience all masked, temperature-checked and distanced (save for trying to leave all at once through the Garrick Theatre's narrow Victorian corridors). Kudos to producer James Seabright and theatre owners Nica Burns and Max Weitzenhoffer for getting anything up and running at all amid the ever-present risk of a sudden tier change wrecking it all.
Traditional family entertainment may be restricted in 2020, but Potted Panto, charmingly imperfect as it is, makes a decent first of offering an alternative the kids will enjoy. For 70 minutes you might just forget there's a pandemic on…
• Potted Panto runs at the Garrick Theatre in London until January 10, with shows variously at 10.30am, 1pm, 4pm and 7.30pm. Tickets are available here.
• Regarding the singing, producer James Seabright got in touch after this review was first published to point out: 'Scientific studies that have happened since the original performing arts guidance for reopening have led to a different view on the question of singing along. We have reduced the participatory elements of Potted Panto to manage the risk appropriately, and believe that everything is in keeping within the currently available science and guidance.'
Review date: 7 Dec 2020
Reviewed by: Steve Bennett
Recent Reviews
What do you think?