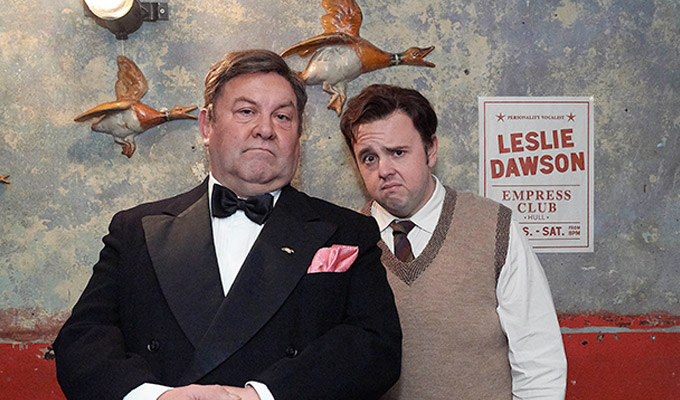 Urban Myths: Les Dawson's Parisienne Adventure
It might be under half an hour long, but this nimbly witty film is both a fitting tribute and charming biopic of one of Britain's best-loved comics.
With a savvy script from Inside No 9's Steve Pemberton, the opening episode of the new Urban Myths series focusses on the unlikely early life of Les Dawson. As a working-class lad bewitched by the world of literature, he decided to live the cliché and fled to Paris to be a serious novelist. But instead found himself playing the piano in a brothel, naively unaware as to what was going on as he blindly followed his instructions to play the same tune all night.
Thanks to wise words from the spirit of his literary hero, Jean-Paul Sartre (played by Pemberton himself) and the more earthly literary criticism of his Parisian flatmate, the seeds are planted for the comedian who would come.
We see him practising nascent stand-up routines on the barmaid he's trying to woo, deploying that famously rubbery face – the result of breaking his jaw when an unsuccessful boxer in his youth, he explains. Dawson quickly comes to the disheartening conclusion that the artistic Paris life isn't for him and his true voice is more likely to be found near the Manchester Ship Canal than the Seine.
Pemberton – who has such fun with French mispronunciation not seen since the heyday of Allo Allo - might have embroidered the truth, but so did Dawson himself, and this French escapade became an essential part of his own legend. As did a defining moment at the Empress Club in Hull in 1956, when, half-cut, he abandoned his usual act of singing standards to a disinterested audience to embark on a grouchy monologue, getting laughs from the shattered remains of his pretentious dreams before attacking his piano tunelessly – the shtick that would, eventually, make him famous.
It's a handy defining moment for the biographer, and Pemberton deploys it well, as well as the technique of having an older Dawson look back at his past.
In this role, Mark Addy is the very spit, verbally and visually, of Dawson in his hangdog prime. But you can just as easily believe John Bradley as the fresh-faced version, yet to quite grow into that life-battered cynicism.
Nicely evoking the 1950s aesthetic, this film adeptly depicts Dawson's artistic journey with jokes both sly and blatant, while painting a layered picture of a complex, but brilliantly funny man.
Inevitably, Les Miserable ends on a poignant note, but that note is struck perfectly. Now that's a phase you rarely hear in conjunction with Les Dawson.
• Urban Myths, Les, Miserable is on Sky Arts at 10pm tonight, then on catch up.
Review date: 7 Oct 2020
Reviewed by: Steve Bennett
Recent Reviews
What do you think?