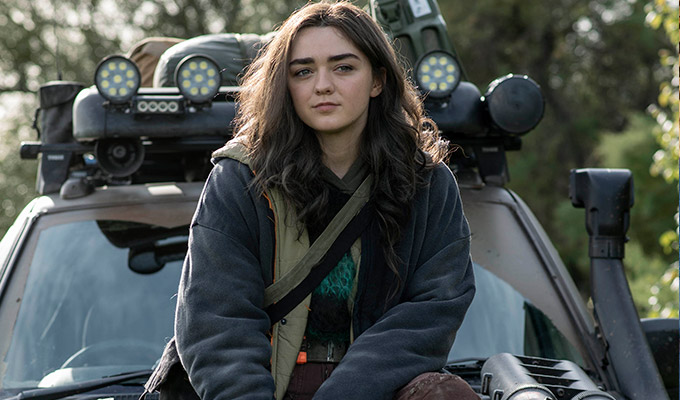 Two Weeks To Live
'Fish out of water' is a stock comedy premise, and in Two Weeks To Live, Kim is a very strange fish indeed.
The central character, played by Maisie Williams from Game Of Thrones, has spent the first couple of decades of her life isolated from society in a log cabin in the wilds of Scotland, raised by her survivalist mum, and is only now entering the real world with the aim of understanding its strange ways.
Naive to so many simple things, such as the internet, money, or going to the pub, she can nevertheless disembowel a stag, dispose of a corpse and kick whatever ass needs it.
The less you know about the ins and outs of the plot of Sky's new comedy, the better, as its ability to pull surprises out of the bag is one of its chief assets. Suffice to say that Kim has a vengeful mission on her mind, and the two brothers who become embroiled in it would be no one's idea of competent.
Between them, the nerdy, unstreetwise Nicky (comedian Mawaan Rizwan in a breakout role) and his drifter brother Jay (Taheen Modal) occupy the traditional comedy sidekick space, utterly ill-equipped to cope with the brutal series of events Kim plunges them into, overthinking or underthinking each scenario respectively. There are tones of the James Corden/Mathew Baynton series The Wrong Mans here as ordinary folk find themselves plunged into high-stakes adventure.
But there's comedy, too, from Kim's broader lack of guile, clearly brainwashed by what her stern, apocalypse-prepper of a mother has taught her. We don't see much of Sian Clifford in this role in the first couple of episodes, but what glimpses we get suggests she'll steal scenes here, just as stealthily she did in Fleabag.
Two Weeks To Live depends on fine a balance between these characters, and more importantly between the comedy and thriller elements – a tightrope it walks deftly. Yes, Gaby Hull's script can get a little meta when it comments on the glibness of a wisecrack, for instance, but a good gag never undermines the sense of peril that drives the story forward.
And what a cracking pace the series sets, cramming action and plot twists into each half-hour episode, mixing witty one-liners and unpredictable action sequences with some real emotions, from grief to feeling adrift in the world, without getting too introspective about it.
The result is a blast: an action-packed ride though a weird world with proper laughs and a strong sense of fun as well as jeopardy. And in a dearth of good new programming, that's a godsend.
• Two Weeks To Live starts on Sky One at 10pm tonight.
Review date: 2 Sep 2020
Reviewed by: Steve Bennett
Recent Reviews
What do you think?