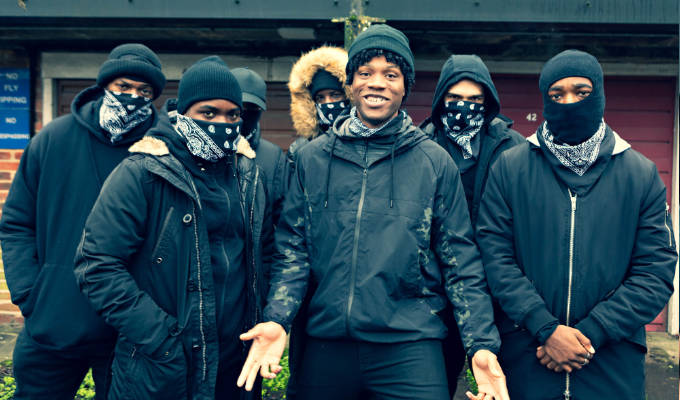 Famalam Season 3
It's a shame the new series of Famalam has run into a racism storm on its release, as the row over offensive Jamaican stereotypes certainly doesn't reflect the more savvy wit that generally pervades this almost all-black sketch show.
The scene released online to such furore – imagining a Jamaican version of Countdown – is loud and crass and does nothing to twist the stereotypes on which it is based. Yet as a whole, the series is sharper and smarter than the atypical skit that the BBC chose to share on Twitter.
Of course, broad archetypes abound. Every sketch show relies on the shorthand they provide to get to the joke, but even the simplest form of punchline subverts these images.
Take, for example, the long-running beef between the E19 Posse and the Stratford Soldiers that's been one of the successes. In the opening episode, their hardcore roadman image is undercut by the fact their gang rivalry is based on trying to prove who's the more environmentally-aware.
Likewise, the African aunties don't react quite how you'd expect when learning their nephew is gay, or drill artists rap about topics away from the gritty violence their reputation would suggest. These are, on the face of it, pretty standard comic conceits, but the Famalam team execute them so well, including great performances and with writing that boasts tags and flourishes to makes the ideas go further. One of the best sketches mocks bland 'white people' cooking, but it's so spot-on, it's hilarious.
The writers often display a sharp satirical sense, too, such as mocking traits in advertising in a fairly straightforward manner, but very astutely. But the comedy doesn't have to be 100 per cent relatable. A couple of the sketches revolved around observations I'd never be aware of – for example, that black hair product shops are always run by Asians, apparently. But my ignorance of the subject only made it funnier, since it's harder to second-guess the gag.
Not every sketch quite worked, such is the inevitable curse of such compilation shows. Jesus pitching the events of 2020 as if an outlandish disaster movie seemed a bit obvious and the scene about spoilers needlessly gruesome - while the complaints about Jamaican Countdown seem valid, however much verve the stars put into their performances.
But Famalam has a damn good hit rate, which raises two questions. 1) Where are TV's other comedy sketch shows? And 2) shouldn't these talented comics – Vivienne Acheampong, Gbemisola Ikumelo, Samson Kayo, John MacMillan, Tom Moutch and Danielle Vitalis – be more in the mainstream, not constrained to a 'black comedy' compartment?
Review date: 23 Aug 2020
Reviewed by: Steve Bennett
Recent Reviews
What do you think?