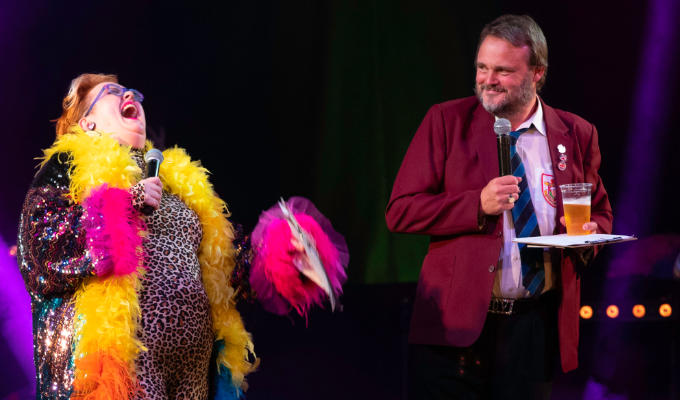 Help Save Live Comedy
The Clapham Grand has hosted some sweaty rock gigs and raucous parties in its day - so to see it as a socially distanced comedy venue, a few tables sparsely scattered around, is strange.
This is how it has to be, though: waiting staff in high-vis and health and safety measures everywhere brings a feel of the building site to a place of entertainment.
But everyone wants - even needs - it to work, performers and audience alike. That's why we're here, just a few hours after the lockdown was eased to allow restricted indoor shows. Audiences starved of entertainment and comedians starved of attention - and, of course, an income - desperate for a taste of normality.
Last night's gig was a fundraiser under the banner of 'Help Save Live Comedy'. It had been intended as a live-stream - broadcast quality kit in place for Zoom, Twitch and Facebook - but after Boris Johnson's last-minute announcement on Friday plans were changed to allow an audience of about 80. Next week they hope to have 200 - a about a third the usual theatre-style capacity, but which venue boss Ally Wolf says is viable.
While the audience was decimated, the bill wasn't. Comics with little better to do packed a line-up that ran for more than three hours, with only the scantest of intervals. After all, what are you to do in a break when there's table service, you can't really socialise and there are minimal queues for the loo?
Jayde Adams and Al Murray hosted, the former full of her usual sparkle and pizazz, the latter boasting a full head of lockdown hair, trying to balance interacting with the live audience and those online - whom they could see but we in the room couldn't -while also trying to rattle the virtual collecting tin.
Comic Relief-style telethons are the only real vocabulary we have for such fundraisers, so compared to those good causes felt a little frivolous to be soliciting money for live comedy, even if the threat, especially to venue is very real.
Aware of that, those comedians who contributed videos tended to be flippant: Joe Lycett undercutting his sincerity with an 'accidentally' inappropriate Instagram filter; Nish Kumar raising the horrifying prospect of inept comedians trying to cope in a real workplace; Aisling Bea proving something of a maestro on the penny whistle with her rendition of My Heart Must Go On. Only a less famous contributor, Sarah Callaghan, maintained her earnestness via a non-comic poem seeing the positives of lockdown; while the open spot who could have been given a break to showcase her work, Yasmin Saoirse, was instead invited to to say what live comedy meant to her.
Of the comics in the room, gratefully performing to a real audience for the first time in months, most were more cynical about the lockdown.
On that front, Nathan Caton stood out, offered up his own poem 'I love you but can you now fuck off please', which wished his partner dead, which straddled the line between edgy and mean-spirited - though the straight stand-up section of his set was more assured it is biting asides.
Opening the show, Kwame Asante was playful with his near-the-knuckle material, in the context of a more upbeat demeanour. Besides, after revealing he was an A&E doctor as well as a comedian, he could do no wrong. As the son of Irish parents, Carl Donnelly told of the double-edged sword of 'the craic', and pondered if the national trait for storytelling was fair compensation for attached mental health problems. But he is a good storyteller!
Shappi Khorsandi, who often wears her heart on her sleeve in her performance, was almost teary with emotion as she took to the stage, delirious to be back doing what she loves. Even if she berated herself initially for getting her timing off, she soon found her rhythm as she settled in to gossiping about the various reality shows she had been on.
During the first interval came a health and safety notice that had been overlooked earlier. As an audience, we were urged not to cheer, so as not to propel any possible coronavirus into the atmosphere. But old habits die hard. Bot only is it almost impossible to stifle your instinct as a punter, the very next act up - drag performer Sue Gives A Fuck – actively us to whoop if we were queer or if we were straight. Oops.
Don Biswas served up some dry puns, mainly about his dyspraxia, diagnosed Asperger's-like tendencies, and race. Rosie Jones played up her usual triple threat credentials: disabled, gay, and a prick, as she indulged her Gillian Anderson fantasies; and Ed Gamble was hilarious with his confected outrage at his awful caricature projected behind him (every act had on, all terrible) and the fact one of his routines was deemed so inoffensive it was suitable for CBeebies audiences. Perhaps that's why he felt the need to round off with a dick pic routine!
In the second interval a few people socially distanced themselves from the gig entirely. Walking out, we once called it - but it was getting late, energy was flagging. Thankfully, Mawaan Rizwan can be guaranteed to perk up any room, as his lively stand-up and stupidly entertaining guinea-fowl song proved.
Helen Bauer offered a breathless download of her many personal issues, plus a guiltily amusing account of a wedding wardrobe malfunction spotted on YouTube. Then Dane Baptiste gave a wry commentary about subverting the expectations and stereotypes he faces daily, even though they couldn't be further from the truth, as well as an excellent analogy on why white people shouldn't be using the n-word.
Rounding off the show, Kerry Godliman had restocked her arsenal of domestic material in lockdown, revelling in the now-empty days but becoming irritated with her partner and bath-bomb-eating son. She also mixed in a little misty-eyed nostalgia from the days when she'd come to venues like this in search of 'getting off' with someone. All highly relatable stuff.
She may express some world-weariness, as is her persona, but the overriding tone of the night was gratitude that the comedy industry is creaking, however hesitantly, however strangely, back into life.
The show ends with Always Look On The Bright Side Of Life, the sort of upbeat message we need. The fact we're not allowed to sing along to it, an unfortunate reminder of the brakes we have to put on our optimism.
For public health reasons, the country might not yet be ready for normality, but every glimpse that a return pre-pandemic life might be possible remains a fillip for the soul.
• Help Save Live Comedy returns to the Clapham Grand next Sunday. Watch last night's show here (the gig proper starts about 43 minutes in) Donate to the crowdfunding drive here.
Review date: 17 Aug 2020
Reviewed by: Steve Bennett
Reviewed at: Clapham Grand
Recent Reviews
What do you think?