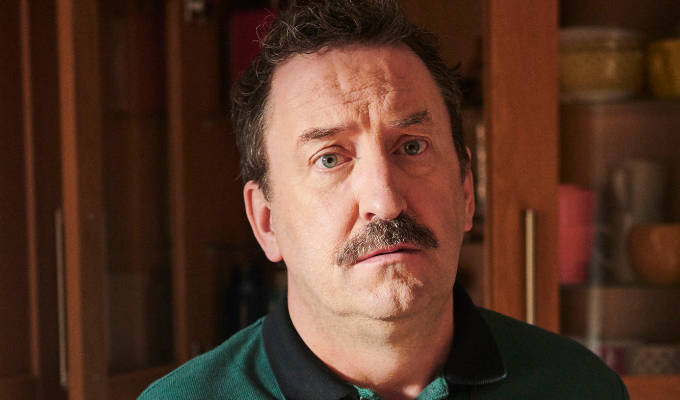 Semi-Detached with Lee Mack
The gimmick of Lee Mack's new sitcom is that all the action happens in real time – though whether audiences would appreciate, or even notice, the restriction that writers David Crow and Oliver Maltman have imposed on themselves remains to be seen.
Certainly, the 24-style rule – which wouldn't, of course, be unusual for a stage farce - allows them to ratchet up the pressure as misfortune upon misfortunes befalls the comedian's hapless character, Stuart, especially as the farce advances to its climax. But it also means things feel rushed, not just pressured.
Although much of the dire straits are straight sitcom - starting with the burnt-to-carbon meal in the very first scene – the true jeopardy facing poor Stuart is a little more poignant. Having already been divorced, he's desperate to ensure his second marriage, to the much younger April (Ellie White) won't go the same way. While that sets him up as overly-keen to prove he's as hip and hippyish as she is, whatever the truth, there's some genuine anxiety there, too.
Where this deviates from Not Going Out – aside from Mack's dodgy moustache – is that in his own long-running sitcom, the character of Lee would always brazen out any failings, while here they gnaw away at him. It's a more rounded character than the gag-delivery vessel of the former.
But given that nod towards real concerns, the dénouement of this opening episode feels too trite, while the broader elements - lobsters being kept in a hot tub, for instance – appear equally contrived for the sake of giving some of the first-rate supporting cast something to do.
Having excelled in one moribund relationship in BBC One's The Other One, White again makes a selfish (and slightly clichéd) character empathetic here. As Stuart's outré dad, Clive Russell is enjoyably bonkers, while Patrick Baladi plays to type as the smarmy new husband of Stuart's ex-wife Kate (Samantha Spiro), who just happens to live across the street. Fine back-up comes from Neil Fitzmaurice as Stuart's money-grubbing brother, and Geoffrey McGivern and Cecilia Noble are the neighbours bickering about that hot tub.
Every one of them is watchable, which makes up for an uneven script which seems a little less certain of itself than the dynamic pilot, which was broadcast back in January last year. But winning characters is more than half the battle, and this relatively mainstream offering may yet find its feet.
• Semi-Detached is on BBC Two at 10pm tonight, followed by Matt Berry's new comedy Squeamish About…
Review date: 6 Aug 2020
Reviewed by: Steve Bennett
Recent Reviews
What do you think?