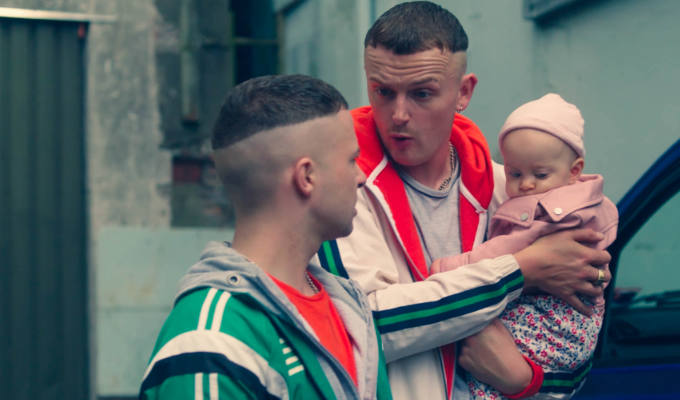 The Young Offenders, series 3
Famously, one of the mantras of the Seinfeld writers was 'no learning': whatever happened to their selfish characters, they would display zero emotional growth.
So it is with Conor and Jock, the very epitome of the phrase 'loveable rogues', in The Young Offenders. As the endearing BBC sitcom returns for a third series, Jock (Chris Walley) is now father to baby Star. But don't think for a moment that he's changed his sketchy ways.
Indeed, the opening episode has the pair of Cork chancers becoming embroiled in a heist to steal a consignment of large-screen TVs. The plot, such as it is, was dreamed up by local criminal Billy Murphy (Shane Casey), a man so dim he makes our anti-heroes look like Nobel-winners.
And although under normal circumstances Jock is barely trusted to look after his own child – and with good reason –on the day of the big robbery he's left holding the baby. So naturally she joins the criminal gang…
Thus, the slick genre clichés of Ocean's 11 and its ilk are undermined, through scenes such as Jock struggling to change a nappy at a crucial point in the operation.
Star turns out to be quite the thief, too, stealing every scene she's in, with the twins who depict her, Penny and Noala Richardson, having the perfect face for the comic deadpan they've mastered at a very early age. Normally, it's Hilary Rose who pinches the limelight as Mairéad, the no-nonsense mother of Conor (Alex Murphy), but in this opening episode she's underused. Another crime.
Rough diamonds are sitcom staples, of course, from Steptoe to Fletcher to Del Boy, and few are rougher than this pair. But creator Peter Foott writes them with obvious endearment, which is key to the show's broad appeal. Despite the prodigious swearing, this could become a primetime hit, now content-strapped schedulers have elevated the show to a 9.30pm BBC One slot this series.
Though it would be easy to mock this world of garish tracksuits, unappealing buzzcuts and flamboyant gold chains (eat your heart out Normal People's Connell), it's sympathetically portrayed by Foott's affectionate script.
The central duo's bromance feels authentic, too, and they are driven by a need to do the right thing by each other and their other loved ones – even if their morals are a little shady.
Much of the comedy comes from a naturalistic slapstick, and although the gags are often relatively unsophisticated, 'dumb but endearing' applies the show as much as does to its lead characters. Charm will out.
• The full third series of The Young Offenders has been released on iPlayer, with episode one airing on BBC One at 9.30pm on Friday.
Review date: 20 Jul 2020
Reviewed by: Steve Bennett
Recent Reviews
What do you think?