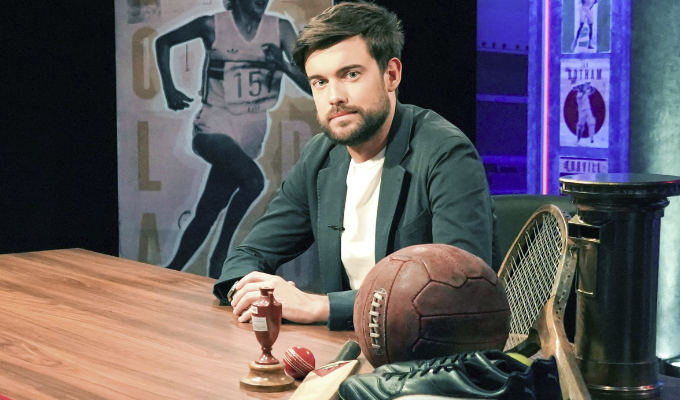 Jack Whitehall's Sporting Nation
If you don't follow sport, the opening few minutes of Jack Whitehall's Sporting Nation are likely to grate more than the five minutes of every news bulletin of the past few months that have fretted over the return of the Premier League as if it were the only thing of importance to the nation.
The comic's monologue is full of the sort of lavish, hyperbolic guff about sport being 'our common thread' that unites us that could have come straight from a commercial from whatever multinational that's trying to wash out its insalubrious reputation with an uplifting sponsorship deal. Let's ignore, too, the fact that often the 'unity' that sport provides is used to form a tribe to bash seven shades of shit out of the other tribe.
To that, add a huge dollop of jingoistic exceptionalism about the UK being a country of fans with 'sport coursing through our veins', as if that doesn't apply to every other nation on earth. 'When we put on a show, the world stops to watch,' Whitehall boasts.
But, you know what? However exaggerated these sentiments, by the end of this half-hour, even the most cynical should be cheered by the power of sport at its very best. Who doesn't feel a bit of a lump in the throat at Danny Boyle's spectacular, eccentric celebration of Britishness that was the opening ceremony to London 2012, even if it wasn't exactly sport? And the ensuing 'super Saturday' of medal successes certainly energised the nation.
All this is covered just minutes after re-living England's glory in the 1966 World Cup Final (sorry, other home nations). Producers of Sporting Nation certainly picked the moments most certain to evoke a warm reaction in viewers' hearts.
For this programme is, of course, a stopgap to make up for all the sporting action that has been cancelled this summer and which should have filled the BBC schedules. 'Think of me as Cliff Richard during a rain delay,' Whitehall says. 'Here to entertain you until the covers come off.'
He does a decent job, an amusing and buoyantly positive host without pushing the comedy too hard, always good company if rarely laugh-out-loud funny. (though a wry comment about 'those who can't, host' is winningly self-deprecatory). It's a stepping stone to him being a bone fide presenter, rather than a jester on the sidelines.
Where most the amusement originates is the archive footage; as grainy, stuttering images of different times so often is. Whether this is enough to hold the attention of the sports-sceptic for six half-hour episodes is moot, but it probably doesn't need to. For those missing a competitive summer, Sporting Nation will, at least partially, scratch that itch.
• Jack Whitehall's Sporting Nation is on BBC One at 8.30pm tonight.
Review date: 10 Jul 2020
Reviewed by: Steve Bennett
Recent Reviews
What do you think?