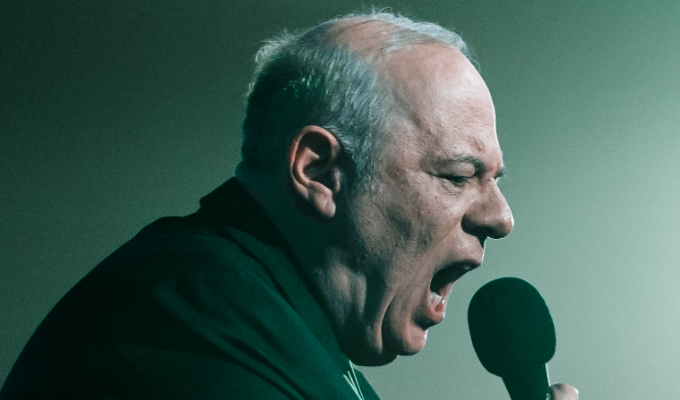 Eddie Pepitone: For The Masses
One thing the world probably isn't crying out for right now is more anger. But the wretched fury of Eddie Pepitone, unleashed again in this new special, turns out to be quite the fillip.
For he is acutely aware that the futility of splenetic rage is inherently funny, whether he's parodying the indignant ignorance of Trumpian middle America or expressing more sincere angst at the world being ablaze with entitlement and consumerism. And this was recorded months ago, before the world's emotions became ever more heated in the pressure-cooker of lockdown
The stand-up flips between this hilariously exaggerated fury and a more measured tone, abrupt shifts of energy that keeps the audience enjoyably disorientated. 'If I send you mixed signals, it's because that's what I got growing up!' he yells as he recalls his blue-collar father, a smart man but an intolerantly short-tempered one, whose attitudes clearly inform Pepitone's own, even at 61 years old.
There's a touch of The Four Yorkshiremen as he portrays his docker dad describing his poverty-stricken upbringing. Live rats for entertainment? You were lucky… He contrasts that brutal life with the comparative ease of the middle-class today, not an uncommon trope among comedians, but here given a typically Pepitonian twist of despair.
For he makes great play of distancing himself from everyday observational comedians, wondering how anyone could possibly care to make gags about dating and porn when the fabric of society is disintegrating. 'Aaargh it hurts!' he protests as he tries a routine to appease the mainstream, some desperate attempt to monetise the pain he's exorcising on stage for the rest of the hour.
This lack of compromise echoes Pepitone's signature piece – which is the finale for this show too – when he tells of being encouraged to ad-lib a little around the script when he auditioned for a fabric softener commercial. He ends up in full spittle-flecked fury at the evils of corporate America and his own unsatisfying life, a powerful rant and so wonderfully out of place.
That said, he does have a hot take on more quotidian subjects such as porn and satnavs. Though with him, the former's toxic acceptance into the mainstream is under scrutiny, while obeying his Waze app turns out to expose the thin line between the haves and the have-nots. It shows him at his best, scratching beneath the surface and delivering his apocalyptic warnings with a pugnacious cynicism, as well as a sharp wit.
Only an over-long routine suggesting a too-honest wedding toast dilutes the intoxicating attitude of a comic who, more than almost any other, reflects the global cauldron of unrest, bubbling over at the parlous state of the world. But with gags.
• Eddie Pepitone: For the Masses is released today. It's available to rent from Amazon, priced £4.49, and elsewhere.
Review date: 23 Jun 2020
Reviewed by: Steve Bennett
Recent Reviews
What do you think?